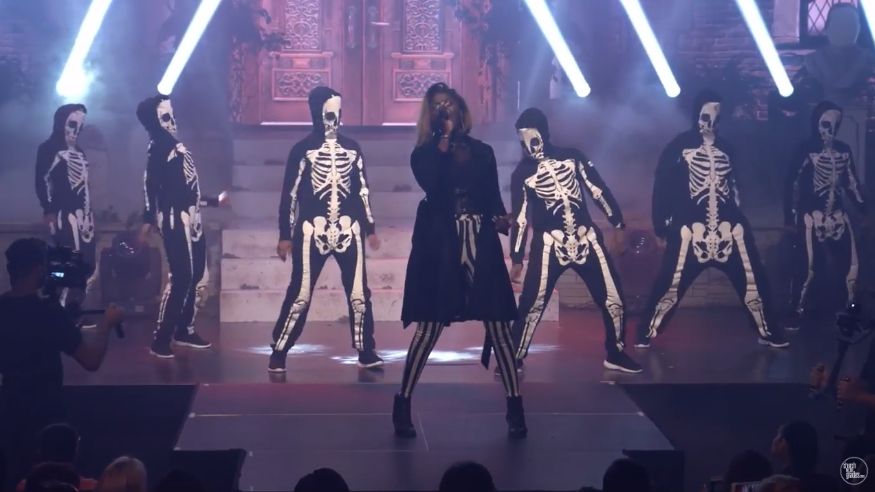 Conservative, Christian-identifying churches nationwide are hosting Halloween-themed events throughout the month of October, some featuring or including Halloween-centered sermons and performances, haunted hayrides, and/or costume contests with children and adults alike dressing up up as skeletons, ghosts, witches and other images of death or evil.
Chet Gallagher, a missions pastor who formerly served as a Nevada police officer, recently posted a short video of a "trunk or treat" event being held at Journey Church in Lebanon, Tennessee, pastored by Erik Reed. He said in the clip that he decided to stop and record video of the happenings outside of the church "to expose how absolutely horrific and wicked it can be for these 'trunk or treat' events."
Gallagher then walked to a van that was parked near the entrance to show that sitting inside the back of the open van was a life-size skeleton, with an inflatable angry ghost attached to the side of the vehicle. He noted that the parking lot was still busy after the event was over.
"This is in front of a Christian church, friends. How can something so demonic be displayed at one of the largest churches in Lebanon, Tennessee?" he asked. "Again, all this hoorah on this so-called trunk or treat, and this is a representation. What is wrong with this picture?"
Gallagher also shared a photograph of a sign at nearby Shop Springs Baptist Church, led by Bo Irvin, which advertised that it was holding a "fall festival," which includes a costume contest. The church has since posted photos of the event online.
One photograph shows three young girls with their face painted, one with plastic fangs in her mouth, and another donning a skeleton costume with smaller skulls on her dress. Another photograph shows a man with a skull in the back of his jeep and a ghost hanging inside.
A third photograph shows a mother donning a Wicked Witch of the West costume in reference to "The Wizard of Oz," and a fourth photograph includes a woman with elaborate face paint in the fashion of "El Dia De Los Muertos" (The Day of the Dead).
A photograph also displayed the trophy for "best costume," which depicts a headless skeleton holding its skull in its hands.
A number of churches nationwide either hosted, plan to host, or took their youth out for a "haunted hayride," including Chatham Friends Church in Snow Camp, North Carolina; Stony Creek Community Church in Stony Creek, New York; Fellowship Baptist Church in Maineville, Ohio; and Freedom Church of Osage Beach, Missouri.
"It's going to be AWESOME! We will have a costume contest, games, candy, lots of food, and of course, a scary hayride," Freedom Church wrote on its social media page.
CityLight Benson Church in Omaha, Nebraska, co-led by Tyler Zach and Alex Marquez, permitted its parking lot to be used on Saturday for an area "Zombie Walk" as a means to "make friends" with its neighbors in the city.
"Over 1,000 dressed-up zombies will begin congregating in our church's parking lot at 6 p.m. We will be provid[ing] food and a free photo booth. This will be a great way to let the city know who we are!" the CityLight website reads.
Church by the Glades in Coral Springs, Florida, led by David Hughes, presented a series of Halloween-themed messages called "Spooktacular" throughout the month of October, including sermons entitled "How to Hug a Vampire" and "Escaping a Haunted Mansion." Services included Halloween-spun live remakes of secular hits, such as Michael Jackson's "Scream" —performed with a cemetery theme—and George Thorogood's "Bad to the Bone"—performed with dancers dressed as skeletons.
"We all have scary skeletons in the closet. Whether it's something that has afflicted us for years or something that happened just yesterday, we all are looking to escape the haunting that comes from past mistakes. Join us for 'Escaping a Haunted Mansion' as we talk about leaving the past in the past and looking forward to fulfilling our purpose in Christ," the church website reads.
On Oct. 29 and 30, Church by the Glades also hosted trunk-or-treat in the church parking lot, with admission being one bag of candy. Last year's sermon series centered on Harry Potter with a "Hogwarts Halloween" theme.
The Church at Lake Forest in Walls, Mississippi, led by Christopher Sykes, hosted its "Spooktacular" on Sunday evening, featuring costume contests and a giveaway for a Nintendo Switch. The sermon series for the month is the Halloween theme "Ghost," which refers to the Holy Spirit.
"SPOOKTACULAR is a family-friendly event that includes an amazing service, high-energy worship, costumes, games, food, and candy for all kids!" the church website states.
Compassion Church in Hartwell, Georgia is holding a block party on Halloween night to "celebrate our city." It will similarly give away a Nintendo game system during the event, as well as a 50″ television.
Passion Church in Maple Grove, Minnesota, led by Jonathan Brozozog, also recently presented its annual Michael Jackson "Thriller" performance with a Halloween theme, and held a separate costume parade for the children. The Oct. 21 sermon was entitled "Haunted House," and a costume and dance party is scheduled for Halloween night for middle and high school-aged youth.
SHOULD CHRISTIANS PARTAKE?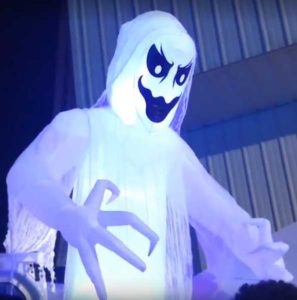 Some churches state that celebrating Halloween is a matter of conscience, and is up to each individual. Newspring Church in Anderson, South Carolina, formerly led by Perry Noble, writes on its website that Christians "must not impose our personal conscience issues on others."
"The Bible doesn't directly say not to participate in Halloween. What the Bible doesn't explicitly prohibit, we have the freedom to make decisions about using wisdom and guidance from the Holy Spirit to lead us. If we listen to Jesus and do what He says, He will never lead us away from Himself," it states. "If dressing in costumes and going door to door offends your conscience, don't do it. If it doesn't bother you, celebrate Halloween."
Matt Chandler of The Village Church in Flower Mound, Texas similarly released a video last week in which he opined that Halloween is, to most people, "probably far less about demons and witches" and "far more about candy and costumes and fun for the kids." He pointed to Scripture in the New Testament about meat offered to idols and said that if one's "conscience is pricked," they shouldn't celebrate Halloween, but if one's "conscience is clear," they should use the event within boundaries to meet one's neighbors and practice hospitality.
However, others state that Halloween presents serious spiritual concerns because it subtly introduces children to evil under the banner of fun or dress-up.
One mother who blogged about the matter noted the confusion that a parent creates after taking their son or daughter year after year to playfully participate in Halloween events—thus affirming such activities—and then finding themselves needing to correct their child after finding them dabbling in the darkness for real.
"Let's say that you do choose the popular road of 'it's all for fun.' Your children accept that and they completely enjoy Halloween all through childhood. Maybe they have even dressed up as a witch once or painted blood on their face 'all in fun.' Maybe you let them read 'Goosebumps' books and watch a few scary movies too, 'just for kicks.' Then your son comes home from a sleepover and you discover that they have been playing with a ouija board and some strange stuff happened. How do you respond to that?" she asked.
"Your child is confronted in school with tarot cards and she accepts a 'reading' from a friend. She is fascinated and starts playing with them herself. She reads about how she needs to be a empty vessel for the spirits to move through," she continued. "How do you tell a 15-year-old that it is a dangerous when you have allowed her to be involved in an occult holiday year after year?"
"When we blur the lines and we do not give our children firm direction in these areas, we are giving the devil free access to confuse them and mislead them. Our children are not saved just because we are. They have to choose Jesus for themselves. And if we tell them by our everyday decisions and actions that the eternal and supernatural realm doesn't have to be taken seriously, they will not take it seriously!"
"Demons are for real. Witches are for real. Sorcery is for real. There is nothing good or clean or funny about any of it," also wrote Alan Morrison of Diakrisis International. "To encourage children to be involved in such things in any way is surely irresponsible and can ultimately be damaging to their spiritual health."
"It is indeed true that Christ 'disarmed principalities and powers' and 'made a public spectacle of them, triumphing over them' (Col. 2:15); but it is bizarre in the extreme to make a joke out of those evil powers, even impersonating them at fancy dress parties," he said. "It completely minimizes that evil power (and the power of the gospel to take away that power) if we just join in the world's jokey, festive, celebrational attitude toward the dark purveyors and vehicles of that evil power."
"To say that 'we need to be like the world in order to evangelize it' is an awesome mistake," Morrison also wrote. "It flies in the face of numerous Bible passages (e.g. Rom. 12:2; Jn. 5:19; 17:14; 2 Cor. 6:14-16; 1 Jn. 2:15; Jas. 4:4; Eph. 2:1-2; 4:17-20; Jas. 1:27; 2 Pet. 2:20). … God's people are to disassociate themselves from evil works. We are a people separated from worldly living to live a life of holiness."
The late British preacher Charles Spurgeon once exhorted, "Brother Christians, modern witchcrafts and wizardry are to be abhorred and condemned, and you will be wise to keep clear of them, trembling to be found acting in concert with those who love darkness rather than light, because their deeds are evil."
"When you come to love God with all your heart, you will not worship God in ways of your own devising, but you will ask, 'Wherewithal shall I draw near unto the most high God?' and you will take your direction from the Lord's inspired word. The service which He prescribes is the only service which He will accept."
2 Corinthians 6:17-18 and 2 Corinthians 7:1 urge, "Wherefore come out from among them and be ye separate, saith the Lord, and touch not the unclean thing, and I will receive you. And will be a Father unto you, and ye shall be my sons and daughters, saith the Lord Almighty. Having therefore these promises, dearly beloved, let us cleanse ourselves from all filthiness of the flesh and spirit, perfecting holiness in the fear of God."
Become a Christian News Network Supporter...

Dear Reader, has ChristianNews.net been of benefit and a blessing to you? For many years now, the Lord has seen fit to use this small news outlet as a strong influential resource in keeping Christians informed on current events from a Biblical worldview. With much compromise and many falsehoods in modern-day Christianity, we strive to bring you the news by keeping Christ and His word in focus.
If you have benefited from our news coverage, please prayerfully consider becoming a Christian News supporter by clicking here to make a one-time or monthly donation to help keep the truth of God's word widely and freely published and distributed.
May Christ continue to be exalted through this work!