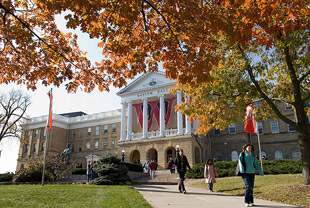 An atheist group at a Wisconsin university is set to receive nearly $70,000 of student fees to fund its programs and events for the 2013-2014 school year.
The University of Wisconsin-Madison recently approved $67,400 in funding for the group Atheists, Humanists and Agnostics (AHA). The allocation is said to be the largest amount ever given to any atheist campus group nationwide.
"Here at AHA, we take pride in constantly pushing the envelope of what secular student groups can accomplish," the student organization wrote on its website following the decision. "With this record-breaking budget, we have solidified our place as the biggest, best organized, and most successful atheist student group in history."
The blog post outlines what some of the funding will be used for, such as $2,780 for the group's "Freethought speakers series," $5,000 to print flyers to promote the group and its events, $6,500 to purchase advertising in the student newspaper and $16,650 for its campus Freethought festival.
"With this money we will be able to launch two important services," added Quinn Heck in an interview with the Center for Inquiry. "Faith questioning,' [a] peer-to-peer religious advising service, designed to help students struggling with their faith and to encourage all participants to develop their own religious identity, and 'secular support groups', [which are] discussion-based meetings for nonreligious, questioning or any students interested in discussing topics relating to religion in a large group setting."
Heck also advised that the group frequently hosts events and gatherings in an effort to attract their classmates.
"We organize a variety of events to get as many people as possible involved in AHA," he said. "We offer weekly discussion meetings, social events like team trivia and board game nights, numerous speaking events and debates, as well as volunteering opportunities."
"[I]magine what we will achieve in the future with budgets of this magnitude," member Chris Calvey said.
However, for Jason Storms, the director of Faithful Soldier School of Evangelism near Milwaukee, it is exactly what the group will achieve that causes concern. He and his wife Sara, along with their group of mostly college-aged evangelism students, have visited the university for approximately 10 years to share the Gospel of Jesus Christ on campus.
"It's going to morally confuse young people in understanding their place in the universe," he said. "Immorality breeds unbelief. The university fields are white for harvest with rampant hedonism and sexual perversion. The atheists will certainly be able to exploit this energized propaganda — subsidized, in part, by the taxpaying Christians."
"How has believing that there is no God contributed to our society?" Storms asked. "We've seen the rise of the secular state in the last century, [and] I don't think it's helpful to contribute to a worldview that [is based on humanism]."
Storms said that while he hopes that University of Wisconsin-Madison has an equal access policy that allows for funding to be provided just as freely to evangelical Christian groups, he still is saddened by the possible ramifications of furthering doubt and atheism. He acknowledged that he is not surprised at the decision, however.
"It's an extremely liberal school. Very left wing," he said. "Any Christian that goes to that school, their faith is under heavy attack."
The funding must still receive final approval from student council, the chancellor and the Board of Regents.
A special message from the publisher...
Dear Reader, because of your generous support, we have received enough funds to send many audio Bibles to Iraqi and Syrian refugees displaced by ISIS in the Middle East. Many have been distributed and received with gladness. While we provide for the physical needs of the people, we seek to provide the eternal hope only found in Jesus Christ through the word of God.
Would you join us by making a donation today to this important work?
Please click here to send an audio Bible to a refugee family >>