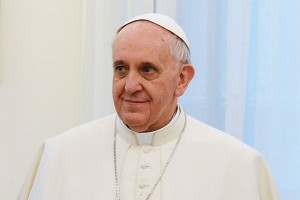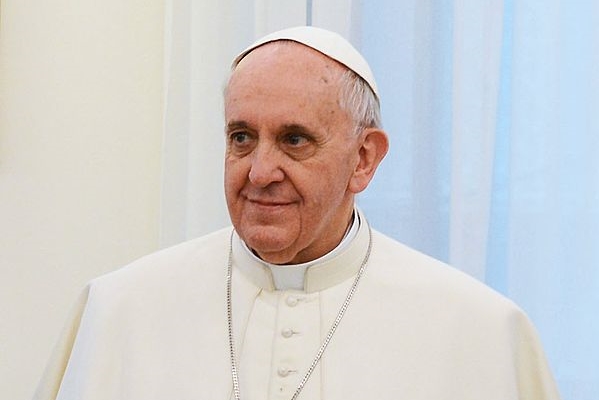 Rome, Italy — Jorge Mario Bergoglio was officially installed today as the pope of the Roman Catholic religion, a ceremony that was attended by hundreds of thousands, including U.S. Vice President Joe Biden. The day marks what some believe is the beginning of an increasing polarization between evangelicals over avowed Christian allegiances to Rome.
The Vatican reports that between 150,000 to 200,000 people attended this morning's papal mass, where Bergoglio, who has taken the name of Pope Francis, addressed those gathered. He largely spoke about Joseph, the husband of Mary, who is venerated on this day by Roman Catholics according to the liturgical calendar.
"Dear brothers and sisters, I thank the Lord that I can celebrate this Holy Mass for the inauguration of my Petrine ministry on the solemnity of Saint Joseph, the spouse of the Virgin Mary and the patron of the universal Church," Francis said. "[Joseph] is to be the custos, the protector. The protector of whom? Of Mary and Jesus; but this protection is then extended to the Church."
He stated that as pope, it is his responsibility to guide and protect the Church just as he believes Joseph continues to protect mankind today.
"As blessed John Paul II pointed out: 'Just as Saint Joseph took loving care of Mary and gladly dedicated himself to Jesus Christ's upbringing, he likewise watches over and protects Christ's Mystical Body, the Church, of which the Virgin Mary is the exemplar and model,'" Francis asserted.
He exhorted the masses that just like Joseph, each man must protect Jesus and Mary, and their fellow man, especially the poor and afflicted.
"To protect Jesus with Mary, to protect the whole of creation, to protect each person, especially the poorest, to protect ourselves: this is a service that the Bishop of Rome is called to carry out, yet one to which all of us are called, so that the star of hope will shine brightly," he said. "I implore the intercession of the Virgin Mary, Saint Joseph, Saints Peter and Paul, and Saint Francis, that the Holy Spirit may accompany my ministry, and I ask all of you to pray for me."
The Great Divide
However, the election of Bergoglio, now known as Pope Francis, has polarized many evangelicals over whether Christians should be joining forces with those whose doctrine is diametrically opposed to Scripture. For one, regarding Joseph as the protector of mankind and Mary as the mother and co-redemptrix of all is a major concern for many Christians, including those who are former Roman Catholics.
Evangelist Louis Palau, author and megachurch leader Rick Warren, former presidential candidate Gary Bauer and others have enthusiastically welcomed Pope Francis, while others such as Pastor John McArthur and Southern Baptist Seminary President Al Mohler have released strong warnings against ecumenicism.
Tom McMahon, a former Hollywood screenwriter and longtime Roman Catholic, who now serves as president of the apologetic and Biblical discernment ministry The Berean Call, told Christian News Network that Christians have been subtly buying into the acceptance of Catholic doctrine in various ways, whether knowingly or unknowingly. He pointed to the continued endorsement of The Passion of the Christ as an example, a Catholic film that has been embraced widely by Christians around the world.
"What I tried to point out to evangelicals was this movie was not specifically about Jesus; it was about Mary," McMahon said. "Mel Gibson, when he was interviewed by Christianity Today, said that he was shocked and surprised that the evangelical church would go for his very Marian movie. What Mel tried to present in this movie was how Mary as co-redemptrix was right there in every scene and all of this couldn't have taken place without Mary."
"You couldn't be far more removed from Scripture than that, but the evangelicals are the ones who made that movie go and supported it financially," he said. "It is shown every year in evangelical churches to draw people in. That's tragic."
Mike Gendron of Proclaiming the Gospel Ministries agreed. He noted other significant widespread efforts.
"One of the accords, the Manhattan Declaration, is asking Catholics, Orthodox and evangelicals to come together to fight for religious freedom," he outlined. "We need to be looking at these accords and realize it's Rome's attempt to unite all of Christianity under the power and the influence of the pope. It's been their strategy for over 500 years, ever since the Reformation."
According to its media site, the Manhattan Declaration is a national joint "movement of Orthodox, Catholic and evangelical Christians." It states that over 500,000 Catholics and Christians have united together for the effort, which seeks to collaborate in the fight to protect marriage, oppose abortion and defend religious liberty.
"We are Orthodox, Catholic and evangelical Christians who have united at this hour to reaffirm fundamental truths about justice and the common good, and to call upon our fellow citizens, believers and non-believers alike, to join us in defending them," the site explains.
"These unity accords are confusing people and putting the Gospel off limits to victims of deception," Gendron said. "We should not go against God's word by uniting with false religions."
Rome: Christianity's Greatest Ally?
However, former presidential candidate Gary Bauer, who now serves as the president of American Values, states that religious differences should not matter. He advised that he is disappointed in fellow Christians who reject Rome so strongly.
"Earlier this week, I wrote an email to supporters encouraging them to pray for Catholics and their leaders as they select the next pope," he wrote in a recent op-ed entitled Why Evangelicals Should Care About The New Pope. "One e-mailer responded in a way that I think exemplifies the view of too many evangelicals. He advised me not to 'minimize' the doctrinal differences between Catholics and evangelicals. And he accused me of 'blurring' the lines between evangelicals and Catholics and of advocating for a 'one-world religion.'"
Bauer asserted that while doctrinal differences do exist, Christians must work together with Catholics because they may be our greatest allies in the culture war. He pointed to the presidential election and the issue of abortion as an example.
"Last year millions of evangelicals and Catholics came together to support Rick Santorum during the Republican presidential primaries and then Mitt Romney in the general election," Bauer said. "And we continue to stand together in opposition to the Obamacare contraceptive and abortion-related mandates in the law."
"As an evangelical, I was delighted that the last two popes were moral and theological giants," he stated. "I don't mean to downplay the real and significant theological differences between our two faiths, but Catholics and evangelicals need to remain allied, and in solidarity, against the increasingly aggressive secularism of our age."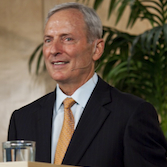 Gendron disagreed.
"God does not need us to join hands with a false religion in order to fight the social battles of the day," he said. "Anybody that reads 2 Corinthians 6:14-18 will see that we are not to have unity with unbelievers. What does light have in common with darkness? What does God have in common with Belial?"
"I do believe that many of the causes … are worthwhile causes to fight, but we can fight them through prayer and to seek God's power and sovereignty in winning the battle," he said. "We don't need to go against God's word by uniting with false religions."
McMahon stated that Bauer's mindset is prominent among many evangelicals, and is saddened by it.
"Whether it's Louis Palau, Billy Graham, Chuck Colson — you could go down the list … in terms of trying to evangelize, they have always worked hand in hand with the Roman Catholic Church," he said. "What are they evangelizing? You have two Gospels that are diametrically opposed, and it is a mentality of the ends justify the means."
"I can take you back through things like Promise Keepers [and] Evangelicals and Catholics Together," he said. "There has been such a movement within evangelical Christianity toward Rome that it staggers me. … I got free, and now to see those I've joined ranks with as evangelical Bible-believing Christians — to see them move toward Rome, toward to the bondage that I was delivered from, it's tough."
Another Jesus, Another Gospel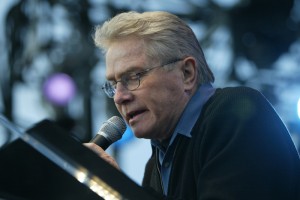 However, some say that as long as Catholics believe in Jesus, they cannot be considered as being unbelievers. Prominent evangelist Louis Palau ascribes to this philosophy. He said that he "exploded" with happiness when he learned that Bergoglio was elected as pope, a man who he calls personal friend that loves God and the Bible.
"He's a very Bible-centered man, a very Jesus Christ-centered man," Palau told reporters. "He's really centered on Jesus and the Gospel, the pure Gospel."
"He builds bridges to other Christian groups, like evangelical Christians, which is a high percentage in Latin America. He's a friend. He's a real friend," he continued. "[T]he leaders of the evangelical church in Argentina have a high regard for him simply because of his personal lifestyle, his respect, his reaching out and spending time with them privately."
Palau was featured in a number of evangelical articles following the election of Bergoglio, such as the pieces Why It Matters that Pope Francis Drinks Maté with Evangelicals and New Pope Francis is a Friend of Evangelicals.
However, McMahon disagreed with Palau's support of the pope. He asserted that not only is the office of the pope unbiblical, the Catholic Jesus is another Jesus than the one of the Bible.
"It really goes back to, what Jesus are we talking about?" McMahon explained. "Are they talking a Biblical Jesus, or are they talking about a Jesus that does not support what the Scriptures say? … Anyone who walks into a Roman Catholic Church will see something right away, and that is Jesus still hanging on the cross. … The theology says that Jesus did not pay the full penalty for our sins."
Gendron said that not only does Roman Catholicism follow another Jesus, it preaches another Gospel.
"Anyone who takes a look at the plan of salvation by the Roman Catholic Church can see that it is condemned by Galatians 1:6-9, where Paul said that the Gospel is of grace alone, and if anyone adds anything to the Gospel, they are to be condemned," he explained. "The Roman Catholic religion requires Catholics to do many things in order to be saved."
"We do need to recognize that there is a clear distinction on the issue of the Gospel, and that is the most important distinction of all," Al Mohler, president of the Southern Baptist Theological Seminary, asserted. "The Protestant rejection of the papacy [during the Reformation] was no small matter, though some Protestants and careless evangelicals seem to have forgotten why."
Become a Christian News Network Supporter...

Dear Reader, has ChristianNews.net been of benefit and a blessing to you? For many years now, the Lord has seen fit to use this small news outlet as a strong influential resource in keeping Christians informed on current events from a Biblical worldview. With much compromise and many falsehoods in modern-day Christianity, we strive to bring you the news by keeping Christ and His word in focus.
If you have benefited from our news coverage, please prayerfully consider becoming a Christian News supporter by clicking here to make a one-time or monthly donation to help keep the truth of God's word widely and freely published and distributed.
May Christ continue to be exalted through this work!