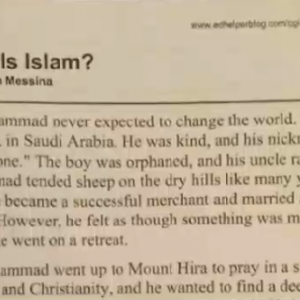 REVERE, Mass. — A father in Massachusetts has pulled his son from school over outrage that students were being taught about Islam in a positive light, including a section that includes the sentence, "I bear witness that there is no God but Allah."
"Muhammad never expected to change the world," the textbook reads. "He was kind, and his nickname was 'the truthful one.'"
"Muhammad tended sheep on the dry hills like many young Arabians. Later he became a successful merchant and married a wealthy widow. However, he felt as though something was missing in his life, so he went on a retreat," it continues. "Muhammad went up to Mount Hira to pray in a small cave. He had studied both Judaism and Christianity, and he wanted to find a deeper meaning for his life."
The reading assignment goes on to explain that the founder of Islam was "upset about the cruelty of his people" because they "killed baby girls" and "treated their slaves unkindly."
"Muhammad had a strong sense of right and wrong," it reads.
The textbook also included the Muslim Call to Faith, which states, "Allah is the greatest. I bear witness that there is no God but Allah. I bear witness that Muhammad is his prophet."
Some parents of children who attend the Revere-area elementary school took no issue with the text as they believed that it was just a part of learning about the world around them.
"When you're talking about a specific region in the world, there's going to be traditions and there's gonna be religions that children should learn about," Ovidio Raffa told local television station WHDH.
But parent Anthony Giannino pulled his son from school after learning that his child was being taught about Islam in class.
"It says Allah is their only God. That's insulting to me as a Christian who believes in just Jesus only," he told the outlet. "We don't believe in Allah. I don't believe in my son learning about this here."
Giannino said that advance notice should have been sent to parents to advise that their children were going to be studying the Islamic religion. He has now begun a petition about the matter.
The district has written a letter in response to the outrage, stating that the lesson was simply a part of the history curriculum.
"The current confusion stems from some members of the community thinking that we were teaching religion in relation to what students should believe," Superintendent Paul Dakin wrote. "This is not the case at all. Islam, like all of the other major world religions, is studied in relation to the specific culture, time period or historical events are focusing on in a social studies or history class."
"I want to be very clear that no religion is taught with the purpose of converting students religion, insulting their own religious beliefs, or promoting the beliefs of one religion as being superior to the other," he continued. "[I]t is impossible to study history without studying religion. For instance, it would be impossible to study the Puritans without understanding the religious freedoms they were seeking in the new world."
As previously reported, in 1647, the Massachusetts Bay Colony passed "The Old Deluder Satan Act," which required that children be taught to read so they could learn to read the Bible.
"In being one chief project of that old deluder, Satan, to keep men from the knowledge of the Scriptures, … and that learning may not be buried in the graves of our forefathers in Church and Commonwealth, the Lord assisting our endeavors, it is therefore ordered by this court and the authority thereof, that every township in this jurisdiction, after the Lord hath increased them to the number of fifty householders, shall then forthwith appoint one within their town to teach all such children as shall resort to him to write and read," it read in part.
7News Boston WHDH-TV
A special message from the publisher...
Dear Reader, because of your generous support, we have received enough funds to send many audio Bibles to Iraqi and Syrian refugees displaced by ISIS in the Middle East. Many have been distributed and received with gladness. While we provide for the physical needs of the people, we seek to provide the eternal hope only found in Jesus Christ through the word of God.
Would you join us by making a donation today to this important work?
Please click here to send an audio Bible to a refugee family >>