Leslie Ludy is a mother of six, pastor's wife, leader of the ministry Set Apart Girl and author of books such as "Set Apart Femininity" and "The Lost Art of True Beauty." This past summer, Ludy released a new book for mothers entitled "Set Apart Motherhood," in which she shares about her own journey as a mother and urges the reader to do all for the glory of God.
Christian News Network recently asked Ludy to share a bit about the essence of "Set Apart Motherhood" and some of the key points addressed within.
Q:  Tell us about your heart behind "Set Apart Motherhood." Why did you write it and what are some of the main messages that you hope to communicate to women?
A: A lot of moms today are frazzled, stressed, and defeated. Our society says this is normal. My book "Set Apart Motherhood" was written to help moms discover how beautiful and fulfilling motherhood can be when Christ is at the center of it! As a mother of six young children, being a Christ-centered mother is one of my greatest passions. A common word used to describe motherhood today is "chaos." But I don't believe it has to be this way!
God's intent is for children to bring joy and beauty in a mother's life, not misery and chaos. In fact, the Bible uses the words "strength" and "dignity" to describe a godly mother's life, and Psalm 113:9 says that God makes the childless woman into a "joyful mother of children." What a difference from the picture of exhaustion and stress so often associated with motherhood today!
I'm certainly no stranger to motherhood chaos. Eric and I waited ten years before starting a family. And then (through two adoptions and two pregnancies) God blessed us with four kids in four years—the youngest two only seven months apart and three in diapers at once. Now, we have six children ranging in age from two to nine. I know what it feels like to have a houseful of little voices chattering and vying for my attention like a mob of wild monkeys. I am familiar with the endless piles of laundry, the constant discipline issues, the continual frustration of lost socks and sippy cups, and the sleep deprivation that comes with having a household full of young children.
But I have learned that when I invite Christ into the center of my mothering and lean upon Him for each challenge that I face, I don't need to settle for defeat and mediocrity. This doesn't mean that things will always be picture perfect or that each day will end like an episode of "Little House on the Prairie." It simply means that when we lean on His strength and follow His pattern, motherhood can be beautiful and fulfilling instead of draining and exhausting.
Set Apart Motherhood also helps moms realize that being set apart mother doesn't mean being perfect. Rather, it means being dependent upon the only One who is. When we are truly surrendered to Christ, we have everything we need to face each motherhood challenge with wisdom, strength, and peace.
In the book, I share the most important truths that God has taught me about overcoming chaos and defeat with His beauty and joy; principles such as building my home into a sanctuary or order and peace, cultivating meaningful relationships with my children, creating an healthy routine for my family, and pointing my little ones to Jesus Christ. My hope is that the principles and truths captured in this book will equip today's moms to exchange the world's dismal expectations for God's life-giving pattern, and to discover how truly amazing motherhood can be when Christ is the Guest of honor in our homes.
Q: In your book, you continually point to Jesus, whether it be about ensuring a mother's "me time" does not supersede her "God time," to providing instruction on creating an environment of order and peace in the home for His glory, to the reminder to look to Him for strength in the middle of life's challenges, to the exhortation that mothers must be a Christ-like example that her children can emulate. Please tell us why it is important to keep Christ at the center of one's home and mothering.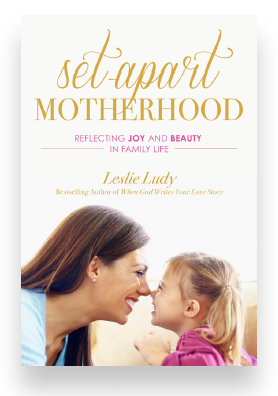 A: The only way to become the excellent mothers that God has called us to be is to stop trying to fit Christ into our lives and instead build our lives around Him. We sometimes look at motherhood—especially the early years of motherhood—as a time when it is perfectly acceptable to "coast" spiritually.  It's easy to let the constant demands of young children push our prayer and quiet times to the back burner and come to the conclusion, "I'll focus on my relationship with Christ when my kids are older and I have more time."
But putting Christ first is what gives us strength, perspective, and grace for the daily battles we are called to fight. Jesus clearly said, "Without Me, you can do nothing" (Jn. 15:5). When we try to work hard at our tasks or serve our families without taking time to be with Christ, read His Word, and lay our cares at His feet, we will become burned-out, exhausted, and "distracted with much serving" just as Martha was.
I understand this struggle. Whenever I catch myself saying, "I have too much to get done today to spend time with Christ," I know that I'm allowing the cares of this world to keep me from what is most important: my walk with God.
A prevalent cultural message targeting young moms today goes something like this: "Take a break—you deserve it!  You spend so much time serving everyone else.  You need to take some time for YOU!"  As a result of this mindset, we often believe that unless we get enough "me time" each week, we won't have the strength to be a good mom. But I have found that the best way to refuel and gain strength for the daily challenges of motherhood isn't through "me time," but "God time."
Jesus' earthly life provides a clear example of this principle. The Bible describes several occasions when He periodically withdrew from the demands of the crowds and the intensity of His ministry. But He didn't lounge on the beach or turn to entertainment to find the rest and new strength He needed. Instead, Jesus went alone to a mountain alone to pray or rose up early in the morning to spend time in God's presence (see Mk. 1:35, 6:46).
Our relationship with Christ is meant to be our "anchor of the soul" (Heb. 6:19). If we allow it to fade into the background, our perspective will be out of whack. But when we put Him first, everything else in life falls beautifully into place (Matt. 6:33).  In "Set Apart Motherhood," I encourage moms to do whatever it takes to spend time in His presence each day.  It's certainly not easy—but it's worth it! When our emotions take a downward spiral, it's tempting to run to distractions like movies, Facebook, Twitter, television, shopping, or venting to our friends in an attempt to find peace. But when we choose instead to turn to the "God of all comfort" (2 Cor. 1:3), we will discover strength, grace, and peace that worldly distractions can never provide.
In the book, I share many practical ways that a mom can keep her relationship with Christ as her highest priority, even during intense seasons of raising young children.
Q: In your book, you state, "Becoming an excellent homemaker is of great importance in God's eyes, but it's not at the top of the list—loving my husband and children must come first." Please share about why it is so important not to become a "Martha" and miss out on enjoying one's spouse and children.
A: Before Eric and I had children, we would often observe young parents impatiently tugging their small children along behind them in malls or restaurants.  Their children were adorable, chattering away as they discovered the new world around them. But the parents seemed far too tired or rushed to even notice. Eric and I wondered, "How can they not constantly smile at how cute their children are?" But now that we have children of our own, we understand a bit more.  In "Set Apart Motherhood," I talk about how parents often get so caught up in the logistics of managing a home and keeping our kids out of trouble that we forget to slow down and truly appreciate the precious gift of our children.
More and more I've come to realize that God didn't just give us children to train and discipline them, but also to delight in them. But there are many things in today's world that hinder us from doing this. A few months ago our family was in a restaurant, and Eric and I were helping each of the kids color while we waited for our food. The waitress commented how unusual it was to see a family doing something together while eating out. "Normally Mom and Dad are texting or checking email on their phones, and the kids are playing games on iPads. Families don't talk to each other anymore," she told us.
In our modern age it's all too easy to be around our kids, but not really be with them. But positive memories are not made when we merely spend time around our kids, but when we focus on them. It's so important to learn to truly listen to our children, ask them questions, and show interest in the things that are important to them.
When we look back on the years we shared with our families, we will not remember the way our pantry was organized or how many friends we had on Facebook. What will stand out are the memories that were made when we took the time to cultivate a meaningful relationship with our husband and children. In "Set Apart Motherhood," I offer many simple ways that moms can slow down and enjoy their kids, despite the busyness of family life and the many distractions of our culture.
Q: Tell us about the Set Apart Motherhood retreat. What can women expect?
A: The "Set Apart Motherhood Retreat" is an annual event where women of all ages gain a beautiful vision for Christ-centered mothering. A lot of women's conferences and mother's events focus on simply giving women a "break" from the intensity of their many responsibilities.  This retreat is a bit different. Our focus is on strengthening a woman in her relationship with Jesus Christ, helping her apply Biblical truth to her daily challenges, and inspiring her to rise up and become the world-changing mother God has called her to be. Women leave this retreat with a Heavenly vision for the sacred calling of motherhood and equipped with the Biblical and practical tools to live it out.
Our next retreat will be held November 5th and 6th, 2015. Women can join me at our beautiful campus in Colorado, or stream a simulcast of the event anywhere in the world. Busy moms who might find it difficult to travel away from home can simply stream the conference to their personal computer, or organize a simulcast event for other moms at their home or church. Those who register to attend or host a simulcast before May 1st, 2015, will receive a 20% discount.
Editor's Note: Those interested in obtaining a copy of Leslie Ludy's book "Set Apart Motherhood" or attending her Set Apart Motherhood retreat may visit setapartmotherhood.com
Become a Christian News Network Supporter...

Dear Reader, has ChristianNews.net been of benefit and a blessing to you? For many years now, the Lord has seen fit to use this small news outlet as a strong influential resource in keeping Christians informed on current events from a Biblical worldview. With much compromise and many falsehoods in modern-day Christianity, we strive to bring you the news by keeping Christ and His word in focus.
If you have benefited from our news coverage, please prayerfully consider becoming a Christian News supporter by clicking here to make a one-time or monthly donation to help keep the truth of God's word widely and freely published and distributed.
May Christ continue to be exalted through this work!