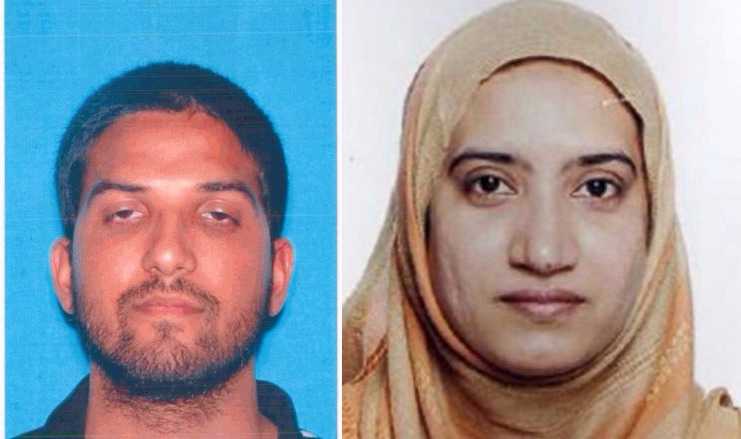 WASHINGTON — The Muslim couple who killed 14 in an attack on a health department party in San Bernardino last Wednesday plotted how to wage jihad on America even before their marriage, the FBI stated today.
"These two killers were radicalized for quite a long time," FBI Director James Comey told the Senate Judiciary Committee. "Our investigation to date shows that they were radicalized before they started courting or dating each other online, and as early as the end of 2013, were talking to each other about jihad and martyrdom before they became engaged and married and were living in the U.S."
He said that it is yet not known whether the relationship had been arranged by a terror group, or if the two were just looking for a like-minded militant Muslim to marry, but said that "[i]t would be a very, very important thing to know."
"We're working very hard to understand exactly their association and the source of their inspiration," Comey stated. "We're also working very hard to understand whether there was anybody else involved with assisting them, with supporting them, with equipping them. And we're working very very hard to understand, did they have other plans? Either for that day or earlier, and that work continues."
As previously reported, Syed Farook, 28, married Tashfeen Malik, 27, in August 2014 after bringing her to America from Saudi Arabia on a K-1 fiancee visa. The two had a child together six months ago.
Reports state that Malik had posted on Facebook around the same time as last Wednesday's shooting, declaring her allegiance to Abu Bakr al-Baghdadi, the leader of ISIS. It has also been found that Farook had been in contact with members of at least two terror organizations, including the Al Qaeda-affiliated Nusra Front in Syria.
A friend of Farook who is stated to have supplied guns to the couple has reportedly told authorities that Farook plotted an attack that was to have been carried out in 2012, but abandoned his plan because he became "spooked" due to a series of terror-related arrests.
The FBI is continuing to investigate the couple, including a supposed $28,000 loan that Farook and Malik applied for online just two weeks before the attack. As previously reported, the two had tried to "destroy their digital fingerprints," crushing their cellphones and throwing them in the trash, and deleting files from their computer to cover up their tracks.
Farook and Malik's apartment has been characterized as an "IED factory" as 12 pipe bombs were found inside the residence, as well as a large amount of ammunition. Officials had also found a remote control toy in the couple's vehicle following their death, which is believed to have been rigged to set off explosives.
Officials were apprehensive at first about whether to classify the San Bernardino massacre as a terror attack or an incident of workplace violence, but have since made a definite declaration.
"This was an act of terrorism designed to kill innocent people," Barack Obama said in an address to the nation on Sunday. "Here's what I want you to know: The threat from terrorism is real, but we will overcome it. We will destroy ISIL and any other organization that tries to harm us."
But he said that ISIS (ISIL) "does not speak for Islam," and accounts for "a tiny fraction of a billion Muslims around the world."
"That does not mean denying the fact that an extremist ideology has spread within some Muslim communities," Obama stated. "It's a real problem that Muslims must confront without excuse."
A special message from the publisher...
Dear Reader, because of your generous support, we have received enough funds to send many audio Bibles to Iraqi and Syrian refugees displaced by ISIS in the Middle East. Many have been distributed and received with gladness. While we provide for the physical needs of the people, we seek to provide the eternal hope only found in Jesus Christ through the word of God.
Would you join us by making a donation today to this important work?
Please click here to send an audio Bible to a refugee family >>