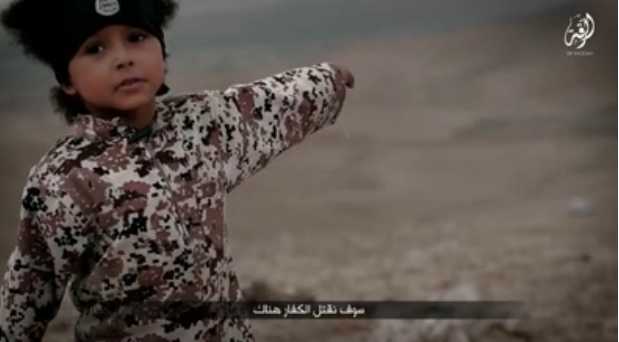 A new video released by the barbaric Islamic group ISIS, which identifies itself as the Islamic State of Iraq and Syria, shows the terror organization using a four-year-old British boy to help execute prisoners.
The child has been identified as Isa Dare, and is being dubbed by some as "Jihadi Junior." In the video footage, he is characterized as "[o]ne of the sons of the martyrs who were targeted by coalition airstrikes."
The child appears in the video next to a Islamic fighter who delivers a message to United Kingdom Prime Minister David Cameron.
"David Cameron, you sent your spies to Syria, and and when you authorized your men thousands of miles away to push a button to kill our brothers who lived in the west," the jihadist says. "So today we're going to kill your spies, the same way they helped you kill our brothers."
"So prepare your army and gather your nations for we, too, are preparing our army," he threatens.
The child, who is dressed in fatigues and wears a headband bearing the Islamic State logo, speaks as well.
"We are going to kill the kuffars (non-believers) over there," he says in the footage, holding a detonator in his hand.
The four prisoners, dressed in orange jumpsuits, are placed inside of a car that is rigged with explosives. After the four-year-old presses the button on the detonator, he declares, "Allahu Akbar," meaning "Allah is the greatest!"
The British publication The Mirror was able to locate the child's grandfather, Sunday Dare, who expressed heartbreak over the situation.
"He is a four-year-old boy. He doesn't know anything," he said. "He doesn't know what's right from wrong. He needs to be guided."
Dare remarked that he is disappointed that his daughter, Grace Dare, allowed her son to be used in such a way.
"I never expected Grace to go to such lengths," he stated. "I didn't expect Grace or Isa to go to that length."
It is believed that the child was taken to Syria in 2012, and the mother changed her name to Khadijah.
As previously reported, ISIS released footage last year showing the terrorist organization training children as young as five years old to fight for Allah.
According to reports, the video was filmed at the Al Farouq Institute for Cubs in Raqqa, and was stated to represent the "next generation" of ISIS fighters. In addition to performing exercises, children recited verses from the Koran and bowed to the ground in prayer with their instructor, who sat adjacent to a pair of guns.
A special message from the publisher...
Dear Reader, because of your generous support, we have received enough funds to send many audio Bibles to Iraqi and Syrian refugees displaced by ISIS in the Middle East. Many have been distributed and received with gladness. While we provide for the physical needs of the people, we seek to provide the eternal hope only found in Jesus Christ through the word of God.
Would you join us by making a donation today to this important work?
Please click here to send an audio Bible to a refugee family >>