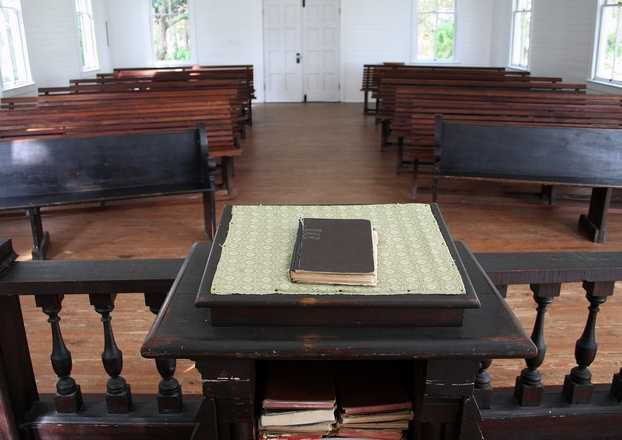 ATLANTA, Ga. — The Georgia House of Representatives unanimously approved a bill this week that protects clergy from punishment if they decline to perform same-sex "weddings."
H.B. 757 was introduced last summer by Rep. Kevin Tanner, R-Dawsonville, and found support from Democrats and Republicans alike.
"No minister of the gospel or cleric or religious practitioner ordained or authorized to solemnize marriages, perform rites, or administer sacraments according to the usages of the denomination, when acting in his or her official religious capacity, shall be required to solemnize any marriage, perform any rite or administer any sacrament in violation of his or her right to free exercise of religion under the Constitution of this state or the United States," the bill reads in part.
In addition to churches, the bill also applies to religious schools, missionary societies and denominational conventions.
"The Pastor Protection Act is a simple reaffirmation of our bedrock principle of separation of church and state," Tanner told reporters. "It makes clear that Georgia respects and honors the sacred oaths taken by our pastors, priests, rabbis and other clergy and that government has no intention of asking them to violate those oaths."
Homosexual advocacy groups decried the move, opining that it grants a "license to discriminate."
"It allows faith-based organizations to withhold services if they choose to do so," Jeff Graham, the executive director of Georgia Equality, said in testimony before the Senate Rules Committee, which is considering a similar combined bill. "I am especially concerned that this bill will have a chilling effect on the state's LGBT families."
As previously reported, a homosexual activist has been calling for clergy nationwide to stop calling homosexuality sinful. According to the New York Times, Mitchell Gold of Faith in America told the publication last May that "church leaders must be made 'to take homosexuality off the sin list.'"
During an appearance at a Alexander County, North Carolina Commissioner's meeting last month, he stated that his New Year's resolution for 2016 is to put an end to such teaching.
"It's outdated. It's misguided. It's ill-informed. But worse, it is unbelievably harmful," Gold stated.
Gold recently also penned a letter to the editor of the Taylorsville Times, stating that "The overriding reason … LGBT people suffer deep depression and are driven to suicide is because they feel they are broken—that they are sinners. I've come to the conclusion this religious teaching is one of the most harmful in our society today."
The Pastor Protection Act passed 161-0 on Thursday.
"There's a global threat to religious liberty occurring," said Dr. Daniel Ausbun, pastor of First Baptist Church in Moreland in a column published in the Newnan Times-Herald on Saturday. "Religious liberty is the freedom to believe and practice your faith apart from government interference."
"We don't want a government that imposes penalties for religious opinions of any kind," he said. "The sad fact is, throughout Georgia, people of faith have had their right of free exercise of religion trampled, ignored and restricted."
A special message from the publisher...
Dear Reader, because of your generous support, we have received enough funds to send many audio Bibles to Iraqi and Syrian refugees displaced by ISIS in the Middle East. Many have been distributed and received with gladness. While we provide for the physical needs of the people, we seek to provide the eternal hope only found in Jesus Christ through the word of God.
Would you join us by making a donation today to this important work?
Please click here to send an audio Bible to a refugee family >>