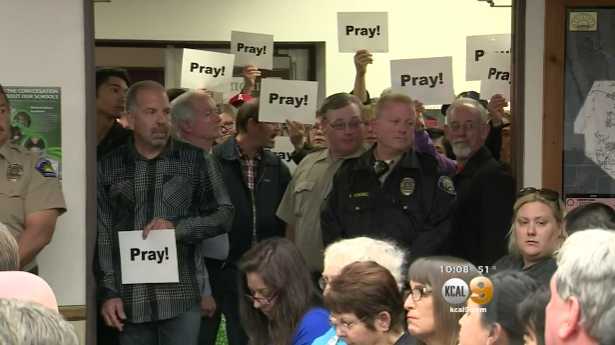 CHINO HILLS, Calif. — Hundreds cheered as a California school board voted on Monday on which law firm they would hire to represent them in an appeal against an atheist lawsuit that resulted in a court order that the board stop praying before meetings and speaking about Christianity in their remarks.
As previously reported, in November 2014, the Wisconsin-based Freedom from Religion Foundation (FFRF) filed a 49-page lawsuit against the Chino Valley Unified School District Board of Education. The organization took issue with the board's practice of opening meetings with invocations, which they argued is a violation of the First Amendment in the U.S. Constitution.
"The Chino Valley School Board begins each meeting with a prayer," FFRF wrote in its legal challenge. "Indeed the meetings resemble a church service more than a school board meeting, complete with Bible readings by the board members, Bible quotations by board members, and other statements by board members promoting the Christian religion."
The Pacific Justice Institute (PJI), a non-profit organization committed to defending religious freedom, stood with the Chino school board and defended the prayers in court. PJI President Brad Dacus said "some of the board members are very committed to their faith" and argued that their religious freedoms were protected by law.
"In a free society we can't have freedom from religion but freedom of religion, and that's what this lawsuit's all about," Dacus told One News Now.
But last month, U.S. District Court Judge Jesus Bernal, appointed to the bench by Barack Obama, sided with FFRF, saying the prayers at the school board meetings "constitute unconstitutional government endorsements of religion."
"[M]embers of the Chino Valley Unified School District Board of Education … are hereby enjoined from conducting, permitting or otherwise endorsing school-sponsored prayer in board meetings," Bernal ordered.
Last Thursday, the board voted 3-2 to appeal the ruling, a move that FFRF noted could be costly.
"An appeal could take another two years, given the backlog in the 9th U.S. Circuit Court of Appeals, and the total fees and costs for a simple appeal would probably be $350,000," attorney Andrew Seidel wrote in a statement. "The board members shouldn't let their faith trump good sense."
But on Monday, board members met to vote on who would be selected to provide legal representation. The chosen firm, Tyler and Bursh, will offer assistance pro bono. According to reports, hundreds of area residents flooded both the inside and outside of the building to express support—with many holding signs that simply read "Pray!"
Some spoke before the board.
"Continue doing what you're doing," Gail Blake-Smith of Released Time Christian Education exhorted. "God is on your side."
Board member James Na expressed his thankfulness for the community support.
"I want to say I appreciate each of you being here and standing up for righteousness," he said.
As the board voted 3-2 on its selection of a law firm in moving forward with the appeal, the crowd burst into cheers.
"[The ruling is] a chipping away at every right we have," Mayor Art Bennett told the Daily Bulletin. "The judge not only outlawed Scripture reading in the course of a meeting, he said the prayer at the start of the meeting is illegal. We've got to stand our ground and go forward. It's a spiritual fight."
A special message from the publisher...
Dear Reader, because of your generous support, we have received enough funds to send many audio Bibles to Iraqi and Syrian refugees displaced by ISIS in the Middle East. Many have been distributed and received with gladness. While we provide for the physical needs of the people, we seek to provide the eternal hope only found in Jesus Christ through the word of God.
Would you join us by making a donation today to this important work?
Please click here to send an audio Bible to a refugee family >>