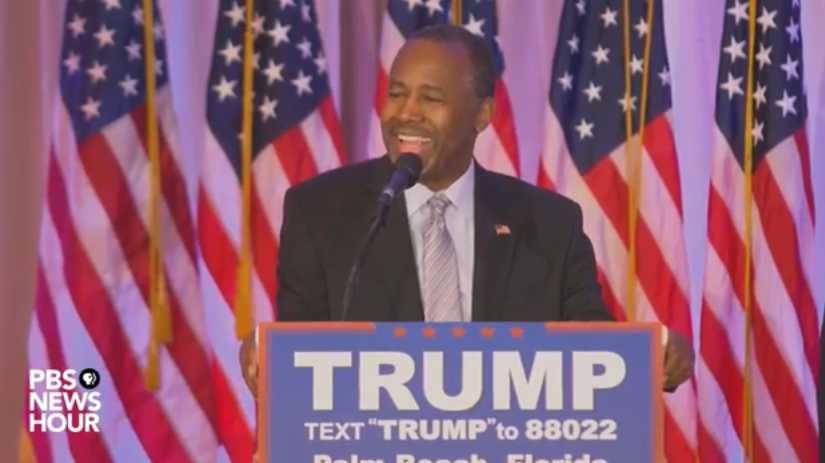 PALM BEACH, Fla. — Former Republican presidential candidate Ben Carson, a Seventh-Day Adventist who Donald Trump once attacked as "pathological" and "low energy," endorsed the Presbyterian-identifying billionaire business mogul on Friday morning.
"I have found in talking with [Donald Trump] that … there is a lot more alignment philosophically and spiritually than I ever thought that there was," he said at Trump's Mar-a-Lago resort in Palm Beach. "That actually surprised me more than anything."
Carson, who praised the candidate's "guts" and "energy," said that he has discovered that there are two sides to Trump. The former brain surgeon characterized the Republican front runner as being "cerebral."
"There are two different Donald Trumps," he stated. "There's the one you see on the stage and there's the one who is very cerebral, sits there and considers things very carefully. You can have a very good conversation with him. That's the Donald Trump that you're going to start seeing more and more of."
"Some people have gotten the impression that Donald Trump is this person who is not malleable, who does not have the ability to listen, and to take information in and make wise decisions. And that's not true," Carson continued. "He's much more cerebral than that."
Last November, Trump said on the campaign trail that Carson has incurable "pathological" issues, which he compared to a child molester.
"It's in the book that he's got a pathological temper," Trump stated. "That's a big problem because you don't cure that … as an example: child molesting. You don't cure these people. You don't cure a child molester. There's no cure for it. Pathological, there's no cure for that."
While campaigning in Iowa the month prior, Trump sought to distinguish himself from Carson's Seventh Day Adventism in advising voters that he is more mainstream.
"I'm Presbyterian," Trump declared at a campaign rally. "Can you believe it? Nobody believes I'm Presbyterian. I'm Presbyterian. I'm Presbyterian. I'm Presbyterian. Boy, that's down the middle of the road folks, in all fairness. I mean, Seventh-day Adventist, I don't know about. I just don't know about."
But during his endorsement today, Carson said that was all in the past.
"We buried the hatchet. That was political stuff," he stated. "We move on."
Carson said that he prayed about endorsing Trump and believed that God was in the decision.
"You said throughout your life God has led you to your most important decisions," one reporter noted. "This truly is an important decision. Did God lead you to Donald Trump?"
"I prayed about it a lot and I got a lot of indications," Carson replied. "[There were] people calling me that I hadn't talked to in a long time saying, 'I had this dream about you and Donald Trump.' Just amazing things."
He said that he also used his own reasoning to come to the conclusion as he feared the ramifications of a Democratic win.
"I also tend to think that the way God speaks to you is by giving you wisdom," Carson stated. "And that wisdom says to me that if we allow this attempt to disrupt the will of the people to be successful, it will fracture the party in an irreparable way. And that would hand the election to people who, I personally believe, would destroy our country."
Trump likewise praised Carson during the press conference, saying, "I think having his support adds credence to what I'm trying to do."
Carson had suspended his campaign last week after an unsuccessful run in the primaries.
A special message from the publisher...
Dear Reader, because of your generous support, we have received enough funds to send many audio Bibles to Iraqi and Syrian refugees displaced by ISIS in the Middle East. Many have been distributed and received with gladness. While we provide for the physical needs of the people, we seek to provide the eternal hope only found in Jesus Christ through the word of God.
Would you join us by making a donation today to this important work?
Please click here to send an audio Bible to a refugee family >>