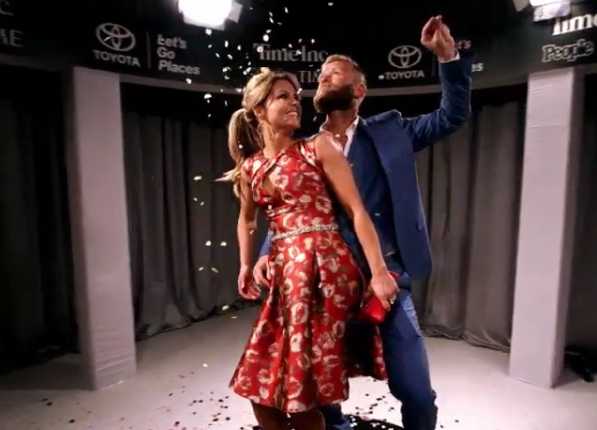 WASHINGTON — Pat Robertson's CBN News is defending its selection of talk show host and actress Candace Cameron Bure, who identifies herself as a "sexual woman," as their guest at Saturday's White House correspondents dinner, despite concerns over her involvement in sexually provocative broadcasts and postings of sensual photos to her social media pages. The outlet praised Cameron Bure as a role model in its press release about the invite, and its news director called Christians who express concern over her behavior "bullies" and stated that he doesn't believe it's anyone's place to "judge."
As previously reported, Cameron Bure has continued to raise concerns among Christians in recent weeks over her immodest attire and risque' photographs, as well as her appearance on the sitcom "Fuller House," which features immodesty, lesbian kissing, sexual and alcoholic references and other controversial content. Some mothers have expressed their disappointment to Cameron Bure that they cannot allow their daughters to view her appearances as they do not find the material to be appropriate.
First organized in 1921, the White House correspondents dinner is an annual event attended by journalists nationwide, and features an often humor-filled speech by the president, as well as other American celebrities. By the 1980's, it became a custom for news outlets to invite celebrities to appear at the dinner as their guest.
CBN, which has no affiliation with Christian News Network, was founded by broadcaster Pat Robertson in 1960, who also hosts the internationally-viewed daily television broadcast "The 700 Club." Robertson has been a controversial figure at times in the media, advising a man that it would be permissible to divorce his wife over Alzheimer's since Robertson considers the disease "a kind of death," and telling a woman who struggled with her husband's infidelity, "Well, he's a man."
CBN says that it considers a list of professing Christians who they would consider to be role models in deciding who to invite as their guest. American Idol contestants Colton Dixon and Ruben Studdard, "Duck Dynasty's" Willie and Korie Robertson, comedienne and former "The View" co-host Sherri Shepard, and former Speaker of the House Newt Gingrich and his third wife Callista were all past guests of CBN.
This year, the outlet selected Cameron Bure and her husband Mark to be their guest at the White House dinner. Christian News Network asked Rob Allman, who has served as CBN's news director for the past 12 years, about the vetting process for guests. Allman stated that he and others considered Cameron Bure's work as a whole in making the selection, citing her role on "The View" and her 2014 appearance on "Dancing With the Stars."
"We believe based on her body of work that Candace Cameron Bure has been an ambassador for the Christian community within the entertainment industry," he said. "What I considered, and what we considered, as we discussed her work, her books, her stance, how she presents herself as she was asked to be on The View, how she presented herself all through her time on Dancing With the Stars—we felt it was a good idea."
Cameron Bure's 10-week appearance on "Dancing With the Stars" featured dances to songs such as Janet Jackson's "Nasty," Sam Smith's "Stay With Me" and "I Love It" by Icona Pop.
The actress, who often wore dresses that cut high up her thigh, and in one dance wore a fabric clam shell top for a mermaid costume, acknowledged that some of her moves were sensual and sexual in nature. She told co-host Erin Andrews when asked how she balances her faith with performing a sensual dance, "I am a sexual woman. But, you know, I want to reserve certain things for my husband."
"This rumba is not a sexual dance; it's a sensual emotional dance," Cameron Bure also contended of her dance to "Say Something" by Great Big World and Christina Aguilera. "Sensual is more sexy than raunchy sexy, so I think this is going to be a beautiful dance."
Allman said that he found Cameron Bure's appearance on "Dancing With the Stars" to be "quite inspirational" because she mentioned her Christian faith on the show and because he believed she "definitely took a more modest approach than anyone on the program."
When asked if Allman was aware of the concerns surrounding "Fuller House," he advised that he had heard some information about the matter but did not look into any of the show's content. He also seemed not to be aware that Cameron Bure deleted from her social media pages a photograph of herself wearing a short, low-cut black lingerie-type dress on "Fuller House" after many Christians expressed concern over her immodesty and how it would reflect on being a role model to their daughters.
Allman, however, referred to Christians as "bullies" and pointed to another instance weeks later where some Christians expressed concern over a photo of a bikini that Bure had posted on her social media pages.
"Personally, I thought she was putting it out there to let Christians see how much of bullies they were," he said. "But I don't know."
"Once these folks can somehow think that they are above others, in many cases they are really as good as the Pharisees and others who complained against Christ," Allman stated.
He repeatedly asserted that Christians are not supposed to judge, stating that Jesus said not to do so and that Christians "sin every day in some shape, form or fashion."
"It's not our role to [judge]," Allman said. "We're not judges of what others do."
He would not comment when it was noted that Pat Robertson regularly makes judgments about right and wrong on "The 700 Club"—although at times controversial.
As previously reported, in the episode entitled "Funner House," Cameron Bure, who plays D.J. Tanner, spends the evening drinking and dancing at a night club with her best friend Kimmy Gibbler and sister Stephanie Tanner.
As the women are preparing to leave the house, Tanner comments about her low-cut, short black dress, "I don't know if I should be tugging this thing down or pulling it up."
The women, who refer to themselves as the "She-Wolf Pack," go to a night club called "Euphoria," where they decide to order tequila shots. While at the club, Tanner tells Gibbler about her idea to do the "Dirty Dancing" routine together, and sister Stephanie Tanner speaks to M.C. Macy Gray about performing the song to get back at Gibbler's "two-timing ex."
During the dance-off, which also includes two men dancing suggestively, Tanner concocts a means to win by "bust[ing] out our big Dirty Dancing lift."
"Sure that's not the tequila talking?" Gibbler asks.
"Well, yeah, it totally is," Tanner replies.
As the women win the dance-off, they are announced by Macy Gray as "luscious lesbians," at which neither Tanner or her friend bat an eye.
"And the winners are these two luscious lesbians!" Gray declares. "Get up here you sexy people!"
"We're the sexy people!" Tanner proclaims as she hurries to the stage and grabs the microphone. "I was just gonna stay in tonight, but my friends insisted that I go out and have some adult fun. They knew I needed to take care of me. Oh, I love you guys so d*rn much! Thank you, Euphoria! And the wait staff and the bartenders!"
"Shots for everybody! She-Wolf Pack is buying!" she announces.
The 12th episode of "Fuller House," entitled "Save the Dates," shows Kimmy Gibbler and Stephanie Tanner locking lips for several seconds until Gibbler's ex-husband pulls them apart, and another contains a scene with heavy sexual references.
Fans of Cameron Bure posted remarks on Cameron Bure's social media pages in expressing concern about her role in "Fuller House," but she soon told them to take the debate elsewhere.
"I'm a little disappointed with the show," one commenter wrote. "There are sexual references, immodest clothing, and you even said a curse word. It makes me sad."
"I quit watching the show after the fourth one. There is too much crude humor and half nakedness and body flinging," another stated. "For somebody who's supposed to be a Christian is trying to please both worlds—it's sad it had to come to this. It's not something today's kids should watch either."
Allman stated that he would look into the Fuller House concerns, but defended CBN's selection of Cameron Bure and asserted firmly, "I'm not going to put myself as some great judge over Candace or anyone else. … We are happy to be inviting Candace to be our guest at the White House correspondents dinner."
People Magazine spoke with Cameron Bure and her husband at the event, and asked Valeri Bure what he thinks of his wife kissing other men during "steamy scenes" on "Fuller House." He said it didn't bother him and that if he was on "The View" he would "make out with Joy [Bahar]."
Laughing and jumping up and down, Cameron Bure replied, "I want to see it! That I want to see!"
"Listen, she's making out with the guys. Why can't I make out with some good-looking girls?" Bure asked.
Candace Cameron Bure's church, Calvary Church of Pacific Palisades in California, did not return calls for comment on previous attempts. Ray Comfort of Living Waters Ministries, whom Cameron Bure cites as an influence in her personal testimony, also did not return calls for comment.
Become a Christian News Network Supporter...

Dear Reader, has ChristianNews.net been of benefit and a blessing to you? For many years now, the Lord has seen fit to use this small news outlet as a strong influential resource in keeping Christians informed on current events from a Biblical worldview. With much compromise and many falsehoods in modern-day Christianity, we strive to bring you the news by keeping Christ and His word in focus.
If you have benefited from our news coverage, please prayerfully consider becoming a Christian News supporter by clicking here to make a one-time or monthly donation to help keep the truth of God's word widely and freely published and distributed.
May Christ continue to be exalted through this work!