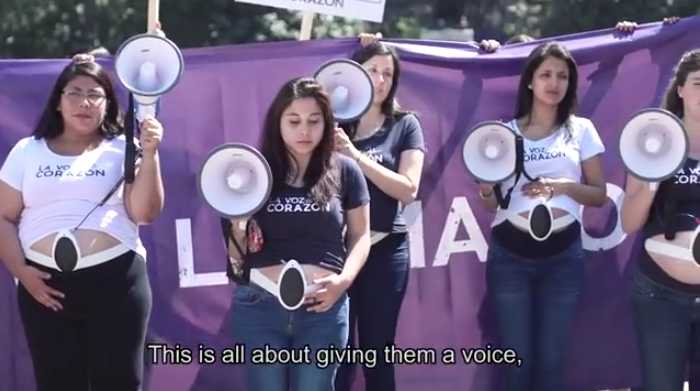 SANTIAGO, Chile — Members of a Chilean feminist group recently amplified the heartbeat of their unborn children in a pro-life march in the nation's capital.
The women were a part of the group Reivindica, which decided to utilize the International Day of Non-Violence as an opportunity to be a voice for the unborn. It organized the march as part of its La Voz Del Corazon project, or Voice of the Heart.
"We cannot consider the idea of naturalizing abortion as 'progress,'" said President Rosario Vidal in a statement. "Women are moved by love, because we love a child—and not just a thing—from the womb, and we love women who have gone through pregnancies in highly adverse situations."
An online video shows some of the women having fetal heart monitors strapped to their wombs, and then amplifying the sound of the pitter-patter heartbeat with megaphones.
"This is all about giving them a voice," says teacher and mother Nevenka Astudillo in the footage. "This is giving them the voices from the heart—the voices from inside the womb, crying out, 'I'm here.'"
"For the first time ever in the Chilean public debate the matter of those who have no say is going to be challenged … those who cannot express themselves, who cannot allege anything, who cannot lobby parliament," mother of three Macarena Matas also declares. "And being able to be the voice of those who at present have no say in the matter, is overwhelming."
The women marched in the streets of Santiago from the Plaza de la Constitución.
Last month, the British Heart Foundation (BHF) at the University of Oxford announced its findings that a baby's heartbeat begins as early as 16 days from conception. The Cleveland Clinic also notes that the baby's heart beats "65 times a minute by the end of the fourth week" of his or her gestation.
Psalm 139: 14-16 states, "I will praise Thee, for I am fearfully and wonderfully made. Marvelous are Thy works, and that my soul knoweth right well. My substance was not hid from Thee when I was made in secret and curiously wrought in the lowest parts of the earth. Thine eyes did see my substance, yet being unperfect, and in Thy book all my members were written, which in continuance were fashioned, when as yet there was none of them."
A special message from the publisher...
Dear Reader, because of your generous support, we have received enough funds to send many audio Bibles to Iraqi and Syrian refugees displaced by ISIS in the Middle East. Many have been distributed and received with gladness. While we provide for the physical needs of the people, we seek to provide the eternal hope only found in Jesus Christ through the word of God.
Would you join us by making a donation today to this important work?
Please click here to send an audio Bible to a refugee family >>