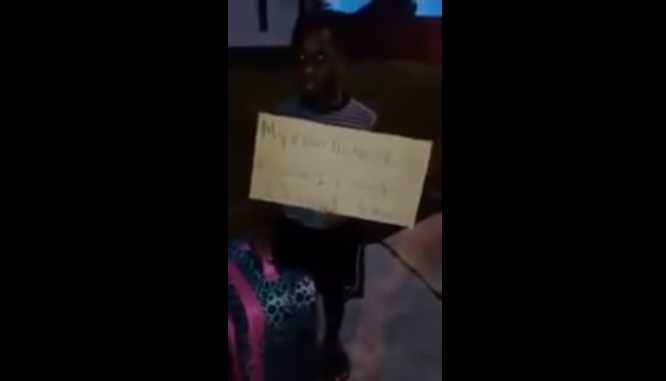 A video showing a young boy being told by his mother that he had to take his suitcase and leave because he voted for Trump in the school election is generating outrage nationwide.
"Since you voted for Donald Trump, you can get your [expletive] and get out," the woman, whose name has not yet been released, declares to her son.
"The suitcase is packed by the door," she advises. "It's been packed since this morning. Bye!"
The woman then tells the boy that he is to take a sign with him to let others know that he had been kicked out of the house for choosing Trump.
"And get your sign, so when the people see you outside they know why you're standing out there," she proclaims.
The boy consequently falls to the floor and begins crying.
When his mother tries to hand him the sign and he refuses, walking away, she raises her voice and begins to yell.
The boy continues to cry as his mother gives him the sign and walks with him to the door.
"You wanna vote for him, I'll show you," she proclaims as she opens the door.
Her son, still sobbing, screams "no," begging to stay in his home.
"Get your suitcase and get out! Bye!" the woman demands. "We don't do Donald Trump here!"
As the boy continues to show his reluctance and refusal to leave, his mother gives him a shove out. She keeps filming and taunts her son as the boy rolls his suitcase out to the curb.
"Bye Donald Trump lover," she states. "This is where you're going to be from now on."
As her son again cries, the woman asks why he voted for Trump in the mock election.
"Why did you vote for him at school?" she inquires.
"'Cause I see him on T.V. a lot," the boy responds.
"Well, I hope you find another T.V. to see him on because this is going to be your new home," he states. "You can't come back here. Bye."
The footage has caused outrage nationwide, with some calling for authorities to locate the mother and investigate the matter.
The Arcola Police Department and child protective services are now looking into the incident. The woman reportedly told investigators that the video was only a "joke."
"When a parent causes a child's safety and security to be questioned by the child it causes psychological damage. If this was a joke, it wasn't funny, and the response by the child and all of these people who were horrified by what they saw, including the child's younger sibling, should make that point very clear," said the organization Justice for Children Without Voices. "If this was an isolated mistake in parenting—we all make them—it is our hope that this mother learns from it."
Warning: Profanity
A special message from the publisher...
Dear Reader, because of your generous support, we have received enough funds to send many audio Bibles to Iraqi and Syrian refugees displaced by ISIS in the Middle East. Many have been distributed and received with gladness. While we provide for the physical needs of the people, we seek to provide the eternal hope only found in Jesus Christ through the word of God.
Would you join us by making a donation today to this important work?
Please click here to send an audio Bible to a refugee family >>