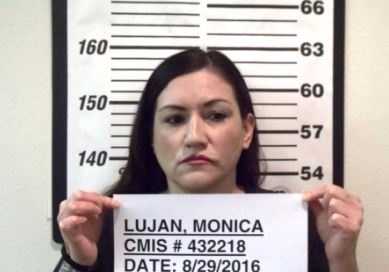 ALBUQUERQUE, N.M. — A former prison inmate in New Mexico has filed a federal lawsuit against a chaplain and others for allegedly being prohibited from practicing Satanism while incarcerated.
Monica Lujan, a member of the Church of Satan, is suing the Corrections Corporation of America and three of its employees. She had spent three years at the New Mexico Women's Correctional Facility in Grants over a drug offense and forgery.
During her time as an inmate, Lujan says that she was denied her request to have a Satanic bible. She was allegedly told by chaplain James Compton that the prison system did not permit the possession of Satanic material.
Therefore, Lujan filed a grievance, which she claims exacerbated the issue. A number of her belongings were reportedly seized when officials found photocopies of the Satanic bible, a prayer book and a drawing of a pentagram in her cell.
Lujan states that items unrelated to Satanism were also confiscated by guards, including shampoo and conditioner, shoes and socks, and her pillow.
She is now seeking damages for suffering, and is claiming violations of the New Mexico Freedom Restoration Act and the Religious Land Use and Institutionalized Persons Act of 2000, according to Courthouse News Service.
The Church of Satan, founded by Anton LaVey, states that it does not believe in the actual fallen angel Satan, but views the entity as a symbol of "pride, liberty and individualism."
"To us, Satan is the symbol that best suits the nature of we who are carnal by birth—people who feel no battles raging between our thoughts and feelings, we who do not embrace the concept of a soul imprisoned in a body," its website outlines.
"Since the Satanist understands that all gods are fiction, instead of bending a knee in worship to—or seeking friendship or unity with—such mythical entities, he places himself at the center of his own subjective universe as his own highest value," it states. "We Satanists are thus our own 'gods…'"
The ACLU is assisting Lujan with her legal challenge.
"This is a case that strikes at the heart of questions of religious freedom," Executive Director Peter Simonson told local television station KOAT. "The staff at the facility were disapproving of her religion and were denying her ability to practice that religion."
But Alex Sanchez, the deputy secretary of administrative support for the New Mexico Department of Corrections, told the outlet that inmates are not prohibited from practicing Satanism as long as there is not threat to safety. He also advised that there is no record that any of Lujan's Satanic items were seized.
"We recognize multiple religions, that includes holy days, property inmates are allowed to have, and how they practice that religion," Sanchez said.
A special message from the publisher...
Dear Reader, because of your generous support, we have received enough funds to send many audio Bibles to Iraqi and Syrian refugees displaced by ISIS in the Middle East. Many have been distributed and received with gladness. While we provide for the physical needs of the people, we seek to provide the eternal hope only found in Jesus Christ through the word of God.
Would you join us by making a donation today to this important work?
Please click here to send an audio Bible to a refugee family >>