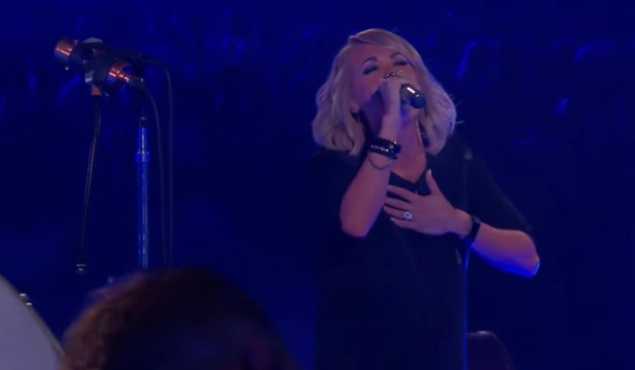 Concerns are being raised by a prominent pro-family organization after country music star Carrie Underwood, who has expressed her support for same-sex "marriage" and attends a church that allows practicing homosexuals to serve in ministry, recently appeared at a major Christian conference attended by tens of thousands of college-age youth.
The American Family Association (AFA) has penned an open letter to Louie Giglio, leader of the annual Passion Conference and pastor of Atlanta's Passion City Church, to express concern about Underwood's participation in the event held January 2-4 at the Atlanta Dome.
The yearly conference regularly features worship music from artists such as Chris Tomlin, Kristian Stanfill and Crowder, as well as Bible teaching from speakers like Giglio and Francis Chan. This year, Underwood, who had not been advertised as a guest, took the stage with Crowder near the end of the performance of the song "Lift Your Head Weary Sinner," and also led the tune "Something in the Water."
"Louie, if I can be completely transparent, I was very frustrated that you would allow [Underwood] to help lead thousands of people in worship. My frustration quickly turned to disappointment and then to sadness," wrote AFA Director of Outreach, Wesley Wildmon.
"With the many Christian artists who believe and teach the full counsel of God's Word available to lead worship at Passion, why would you choose one who publicly states homosexuality is not a sin?" he asked. "Your approval gives thousands of unsaved or weak Millennials an untruthful image of what the Bible says about marriage."
Wildmon clarified that he isn't saying that Underwood should be shunned altogether, but that her public remarks should give reason for pause to provide a platform to someone that supports an unbiblical view of marriage.
"It should go without saying, but I will say it anyway: her denial of God's Word should not keep you from being friends and encouraging her, but it should give you hesitance in inviting her to partner with your ministry," he wrote.
As previously reported, Underwood, who attends GracePointe Church in Nashville with her husband Mike Fisher, announced in 2012 that she supports same-sex "marriage."
"As a married person myself, I don't know what it's like to be told I can't marry somebody I love, and want to marry," she told The Independent. "I can't imagine how that must feel. I definitely think we should all have the right to love, and love publicly, the people that we want to love."
"Our church is gay friendly," Underwood continued. "Above all, God wanted us to love others. It's not about setting rules, or [saying] 'everyone has to be like me.' No. We're all different. That's what makes us special. We have to love each other and get on with each other. It's not up to me to judge anybody."
She also criticized "people who use the Bible for hate," remarking, "That's not how I would want myself as a Christian to be represented."
In light of her comments, AFA asked that Giglio be more careful about who he invites to the event in the future.
"I am writing to plead with you to consider the clarity of God's Word on marriage and reflect on it in the artist you choose for next year," Wildmon said. "It is God who has blessed you with this platform and it is God who can remove His hand of blessing if you become careless with His principles."
Following her appearance at the Passion Conference this month, Underwood thanked organizers on social media for allowing her to be a part of the event.
"What an incredible night @passion268! Thanks for letting me be a small part of it! & thanks @crowdermusic for letting me crash your set!" she wrote.
Passion likewise expressed excitement over Underwood's performance, Tweeting, "Thanks @crowdermusic for an amazing night of music and to our special guest @carrieunderwood for joining us at Passion 2017! What at start!"
Giglio has not responded to press inquiries about the matter.
Underwood's appearance may be viewed here as it was posted to the event's YouTube page.
A special message from the publisher...
Dear Reader, because of your generous support, we have received enough funds to send many audio Bibles to Iraqi and Syrian refugees displaced by ISIS in the Middle East. Many have been distributed and received with gladness. While we provide for the physical needs of the people, we seek to provide the eternal hope only found in Jesus Christ through the word of God.
Would you join us by making a donation today to this important work?
Please click here to send an audio Bible to a refugee family >>