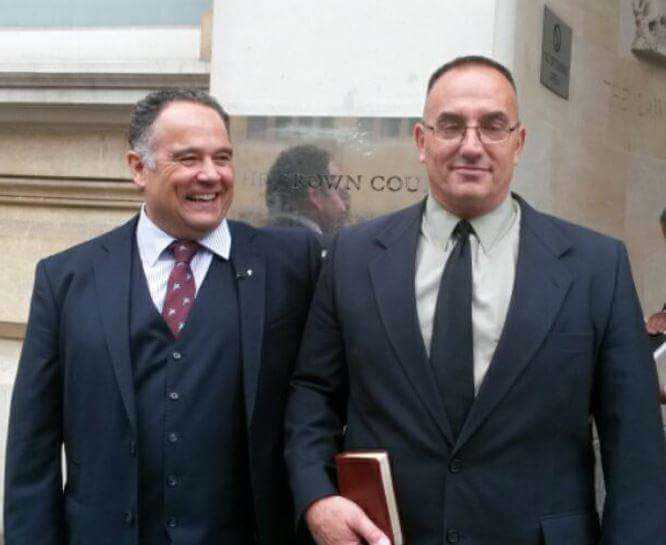 BRISTOL, U.K. — Two preachers who had been found guilty earlier this year of "intentionally alarming" the public with their open-air preaching have now been acquitted in a UK appeals court.
"We hope and pray that today's ruling will be an encouragement to Christians across the nation to continue preaching the good news," defendant Michael Overd said in a statement on Thursday.
As previously reported, Michael Overd and Michael Stockwell had been charged by British officials last July with violating the Crime and Disorder Act of 1998, in allegedly using "threatening or abusive words or behavior or disorderly behavior within the hearing or sight of a person likely to be caused harassment, alarm or distress thereby." The statute specifically hones in on offenses that are "religiously motivated."
Overd and Stockwell, along with Adrian Clark and Don Karns, had been taking turns open air preaching outside of the Bristol shopping center on July 6, as well as engaging passersby in conversation and/or holding gospel signs.
Two of those involved in the evangelism effort, Stockwell and Karns, were American citizens visiting the country to share the gospel. The men allegedly preached on a variety of issues, and took questions from those who stopped to listen—questions that ranged from Islam, Buddhism, Jehovah's Witnesses, homosexuality and other moral and religious issues.
Police stated that some became offended by the men's preaching and/or responses to the questions, as statements reportedly included remarks such as "Allah is the greatest deceiver—that's in the Koran," "David Cameron is no more a Christian than my dogs" and that false religion leads men to "the gates and the very depth of Hell."
An online video shows the moment the men were arrested.
"The purpose of mankind is to worship God and enjoy Him," declared Overd, who was preaching at the time. "You need to obey God and obey His commands. I hated His commands once and I remember what that mind frame is—it is like banging your head against a brick wall."
Seconds later, Overd was approached by a police officer, who ordered him to leave the area.
"Look, you are causing a disturbance now," the officer stated. "You are not welcome."
"Go home! Go home!" a few men nearby chanted.
The officer warned that if Overd did not stop preaching, he would be arrested.
"For God so loved the world, guys, that He gave His only begotten…" Overd declared, advising that he was not going to leave.
The officer consequently grabbed Overd by the arm while he was speaking and pulled him away. The crowd clapped and cheered enthusiastically.
"There's a line of freedom of speech," the officer told Overd. "[I]t's when you're causing a disturbance, that is, aggravating people, anti-social behavior, which you were causing."
"How were we causing it?" Overd asked. "What did we say?"
"People were getting angry. You were challenging [homosexuality]. You were challenging Muslims," the officer replied.
"But just saying what the Bible says," Overd noted.
"That's fine," the officer said.
"Well, if it's fine, why are you arresting me?" Overd asked.
Stockwell, Karns and Clark were also arrested, but the charge against Karns was later dropped and the charge against Clark was dismissed last week at trial.
In February, Justices Robert Stacey, Gerry McDermot and Josephine Ramsden declared Overd and Stockwell guilty of violating the Crime and Disorder Act, and fined them nearly $2,500 each.
During the trial, prosecutor Ian Jackson argued before the court that preaching that Jesus is the only way to God "cannot be a truth" and that some passages of the Bible are not acceptable for 2016.
"To say to someone that Jesus is the only God is not a matter of truth. To the extent that they are saying that the only way to God is through Jesus, that cannot be a truth," he declared, according to a press release issued by the Christian Legal Centre.
He contended that Stockwell and Overd had crossed the line by stating that those not following Christ are on the broad path to destruction.
"[Stockwell preached that] people were on their way to Hell because of their failure to adopt the worldview of Christianity," Jackson told the court.
"If you are trying to come through Catholicism, through Jehovah Witness, through Mormonism, the Bible says you're a thief and a liar, and a thief comes to steal and destroy. But Christ came that we may have life," Stockwell had explained during the outreach.
Jackson said that it was also wrong for the preachers to include homosexuals in a list of sinners that included drunkards and thieves, contending that doing so "must be considered to be abusive and is a criminal matter."
But attorney Michael Phillips of the Christian Legal Centre noted to the court that the men were simply citing 1 Corinthians 6:9-10, which reads, "Know ye not that the unrighteous shall not inherit the Kingdom of God? Be not deceived: Neither fornicators, nor idolaters, nor adulterers, nor effeminate, nor abusers of themselves with mankind, nor thieves, nor covetous, nor drunkards, nor revilers, nor extortioners, shall inherit the kingdom of God."
The Daily Mail reported that Jackson "told the court some of the statements made by the preachers may have been in the King James Bible, translated in 1611, but that did not mean they were acceptable in 2016."
During this week's appeal hearing, which lasted two days before the Bristol Crown Court, Standing Counsel Paul Diamond told those gathered that there is no right not to be exposed to ideas that one disagrees with and that passersby can simply continue walking if they do not wish to hear certain messages.
Stockwell and Overd also shared with those present that their motivation is only to share the gospel.
Judge Martin Picton, who was joined by two other appeals court judges, subsequently ruled that the prosecution could not sufficiently prove that the men were motivated by animus toward any people group.
"We conclude Mr. Stockwell did no more than express his no doubt sincerely held religious beliefs as he was entitled to do," he said, according to the Bristol Post.
Stockwell and Overd expressed relief over their exoneration, as well as concern regarding the infringement of free speech rights in Britain.
"Our motivation for public preaching is love. We want people to have access to the good news about Jesus Christ," Stockwell said in a statement. "When we were convicted of public order offenses in February, I was shocked that God's message of love is now considered by some to be hateful and dangerous."
"Freedom of speech is under increasing assault in this nation. People should be free to express their beliefs in public, without risk of harm, violence or other repercussions. That's why today's result is such a great victory," he said.
Become a Christian News Network Supporter...

Dear Reader, has ChristianNews.net been of benefit and a blessing to you? For many years now, the Lord has seen fit to use this small news outlet as a strong influential resource in keeping Christians informed on current events from a Biblical worldview. With much compromise and many falsehoods in modern-day Christianity, we strive to bring you the news by keeping Christ and His word in focus.
If you have benefited from our news coverage, please prayerfully consider becoming a Christian News supporter by clicking here to make a one-time or monthly donation to help keep the truth of God's word widely and freely published and distributed.
May Christ continue to be exalted through this work!