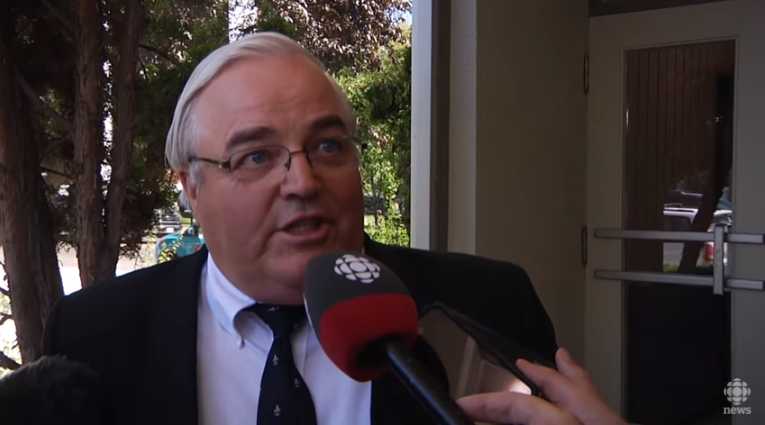 BOUNTIFUL, B.C. — A Canadian man has been convicted of polygamy after being found to have married 25 women over more than two decades, and fathering 145 children over that time.
Winston Blackmore, 61, was found guilty on Monday of practicing plural marriage and now faces up to five years behind bars. He is an adherent of the Fundamentalist Church of Jesus Christ of Latter-Day Saints, which believes in having "celestial" marriages.
"I'm guilty of living my religion and that's all I'm saying today because I've never denied that," Blackmore told reporters following the hearing, according to CBC News. "Twenty-seven years and tens of millions of dollars later, all we've proved is something we've never denied. I've never denied my faith. This is what we expected."
Ex-wife Jane Blackmore took the stand during the 12-day trial, testifying that Blackmore once told her that he was "only doing what God told him to do." She left
However, Blackmore was supported by a number of his daughters, one of whom also took to Facebook to share her thoughts.
"Never has my dad denied it, never has he been ashamed of it, and never has there been a need for either because we're all proud of each other," wrote Dolly Blackmore Roundy. "I'm proud of my father and my family and no guilty conviction, or amount of 'experts', who have no idea, trying to rescue me from my 'brainwashed background' can change one bit of that."
Her comments and photograph generated over 200 likes.
An expert on LDS history was likewise brought in during the trial, who spoke about Mormonism's history and explained that fundamentalists still believe in having multiple marriages.
James Oler, 53, was also convicted of polygamy after this week as it was discovered that he had five wives. Both had formerly served as bishops in the fundamentalist sect, and both had previously been investigated, but were not charged due to confusion over Canada's laws prohibiting polygamy. An unrelated 2011 court case brought clarity to the matter.
Blackmore's attorney, Blair Suffredine, says that he will file suit to challenge the law.
"Twenty-seven years ago adultery was a criminal act. Twenty-seven years ago, when they started with us, same-sex marriage was criminal," Blackmore said. "Those people all successfully launched constitutional challenges on the basic right to freely associate. For us, I imagine it will be [that] this is entrenched in our faith and I would have been hugely disappointed if I would have been found not guilty of living my religion."
As previously reported, in the U.S., the Supreme Court let stand earlier this year an appeals court ruling reinstating Utah's ban on polygamous cohabitation, which initially had been struck down by U.S. District Court Judge Clark Waddoups.
Waddoups opined that the law violated the First and Fourteenth Amendments, and interfered with the right to privacy. He pointed to the 2003 decision in Lawrence v. Texas, which decriminalized sodomy in the nation, and differentiated unmarried sexual conduct from criminal bigamy.
The appeals court's basis for reinstating the ban, however, was based on the fact that the Plaintiffs—TLC's reality show stars Kody Brown and his five live-in lovers—were unlikely to be charged.
A special message from the publisher...
Dear Reader, because of your generous support, we have received enough funds to send many audio Bibles to Iraqi and Syrian refugees displaced by ISIS in the Middle East. Many have been distributed and received with gladness. While we provide for the physical needs of the people, we seek to provide the eternal hope only found in Jesus Christ through the word of God.
Would you join us by making a donation today to this important work?
Please click here to send an audio Bible to a refugee family >>