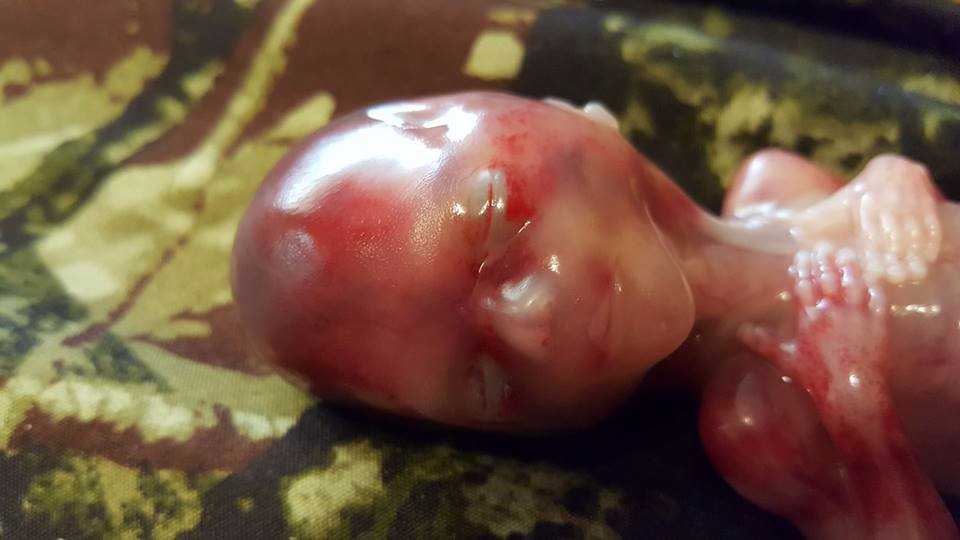 A mother who recently lost the twins in her womb within weeks of each other is sharing photos of one of her children—miscarried at 14 weeks—to social media in hopes that those who are contemplating abortion will see and understand the reality of fetal development.
"He is perfectly and wonderfully formed, right down to his amazing tiny toes and fingers. Even his fingernails are formed and visible," wrote Felicia Cash on July 31. "Tiny veins that carried his own blood to his precious body can be seen through his delicate skin, even his wonderfully formed muscles are visible."
"At less than half gestation, he is very obviously human—not a cluster of cells, not a lump of tissue, not a blob of unformed flesh," she continued. "He is a beautiful child, formed by God, and now gone to be with Him."
Cash, an adoptive mother of three, had struggled with infertility for 13 years. During this time, she and her husband fostered three sisters and proceeded to adopt them. On the day after signing the adoption papers, she discovered that she was pregnant. She gave birth to a healthy baby boy, and conceived another child a few years later.
This past spring, Cash became pregnant a third time, but had complications early on, even before she knew she had twins in her womb.
"I went into the hospital, bleeding, in fear of miscarriage," she told Live Action News. "They did an ultrasound and told us that we had lost one of two, but that the second baby looked healthy and strong. We had other scares when bleeding started again and again, but were told it was just due to the first loss and a hematoma beneath the placenta."
However, weeks later, Cash began bleeding again and contacted her husband to hurry home from work. But before he arrived, her water broke and her tiny son was born at 14 weeks, 6 days. She named him Japeth.
Cash decided to take photos of Japheth, and soon posted them to social media so others could see the intricacy of a child so small. However, after her first post was removed Facebook without explanation, she posted the pictures again.
"I am posting this in hopes of offering information to those who may not know how completely a child of only 14 weeks gestation is formed, and therefore not something to be taken lightly," Cash wrote. "His tiny heart was beating within 16 days of conception, pumping his own blood. That is usually before anyone knows that they are pregnant."
"A baby's hearing begins to develop around six weeks. Their nerve endings the 'alarm buttons' begin to develop around seven weeks," she advised. "I hope that this information, and these heartbreaking pictures of my beautiful boy will help everyone to understand a little more."
Cash urged anyone considering an abortion to seek out the truth and find help. She offered help herself.
"Many will say that the foster homes are overflowing already or that no child should be unwanted. But that does not mean that your child should be discarded," she wrote. "As an adoptive mother, I want to encourage you that there are hundreds, thousands of families who would love a child that did not come from their own bodies, and there are thousands of families who do. Reach out. There is hope."
Cash further shared with Live Action News, "I've asked my own children their thoughts on [adoption], and they each have said that they are thankful that their birth mother chose life for them, even if it was difficult and imperfect."
A special message from the publisher...
Dear Reader, because of your generous support, we have received enough funds to send many audio Bibles to Iraqi and Syrian refugees displaced by ISIS in the Middle East. Many have been distributed and received with gladness. While we provide for the physical needs of the people, we seek to provide the eternal hope only found in Jesus Christ through the word of God.
Would you join us by making a donation today to this important work?
Please click here to send an audio Bible to a refugee family >>