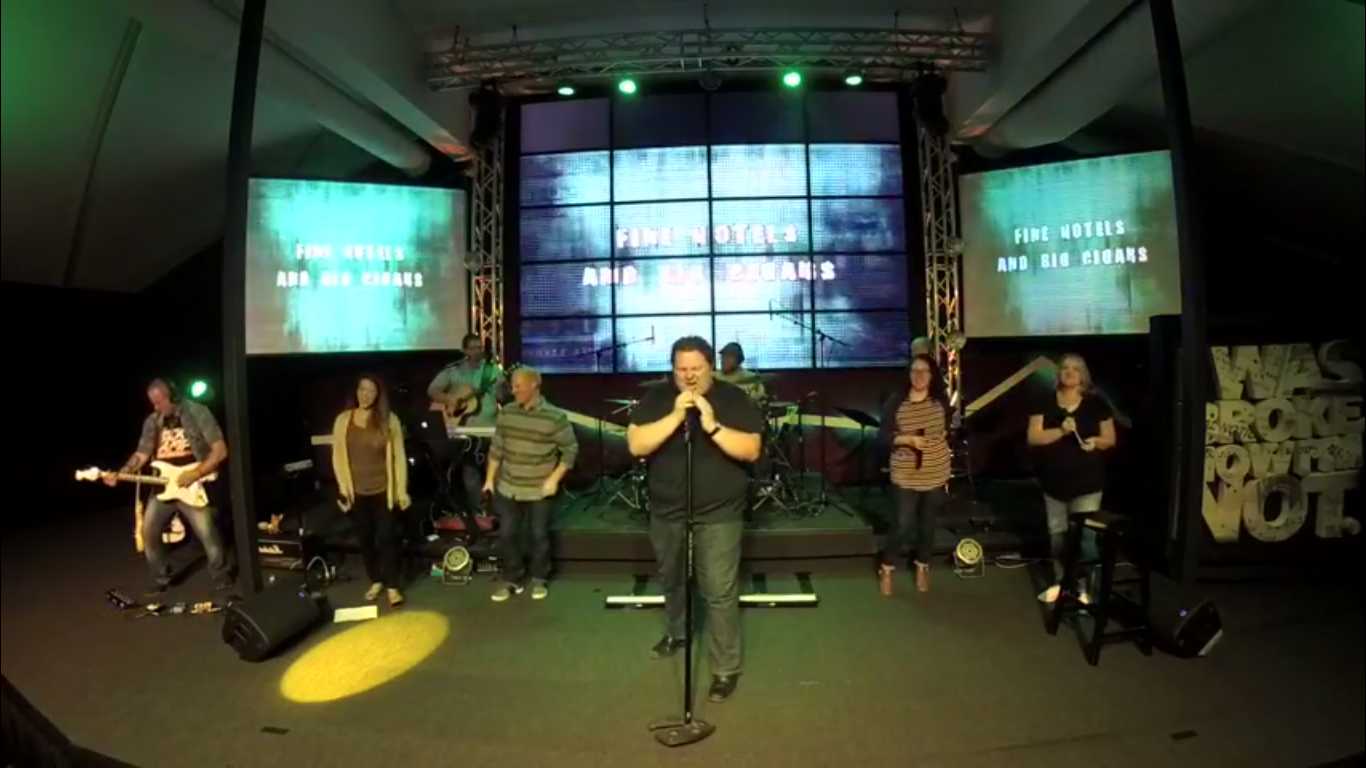 FORT WAYNE, Ind. — The worship band of a non-denominational "church" in Indiana recently performed the song "Money Talks" from the secular rock group AC/DC—also known for its "Highway to Hell" tune that celebrates having a party in Hell with one's friends—during the Sunday morning service to correspond with the pastor's sermon series.
"Come on! Put your hands together Pointe Church!" declared Fort Wayne Pointe Church Worship Pastor Josh Anders as an electric guitar riffed and drums beat behind him.
"Tailored suits, chauffeured cars/Fine hotels and big cigars/Up for grabs, up for a price," he sang out. "Come on, come on, love me for the money/Come on, come on, listen to the money talk."
Members of the worship team clapped and danced during the rock song, which was altered slightly to replace the tune's reference to "where the red hot girls keep on dancing through the night" to "where the rock and roll bands keep rocking through the night."
At the conclusion of the song, as Anders asked those in the congregation to "give it up" for the lead guitarist, those present clapped and cheered.
"Do you guys like that?" also asked a man named John—who identified himself as one of the church's board members—being met with cheers. "It's good stuff, right? Good stuff. Hey, a little 'Money Talks' AC/DC this morning."
He also welcomed visitors who decided to attend for worship that morning.
The selection of "Money Talks" was meant to tie in to the Pointe Church sermon series entitled "I Was Broke, Now I'm Not," and was performed directly after leaders led those present in a prayer, asking that God would speak those those in attendance who do not know Him.
"Father God, thank you so much, Lord, for today—a chance to hear Your word, a chance just to grow in You and glorify You, Lord," one of the men prayed. "There may be some here that just don't know you, that are checking You out, Lord. Just speak to them in a real way that You'll connect with them, [that] they can put down their guard and invite You into their life."
Pointe Church is led by Ray Harris, who founded the assembly in 2005.
Reaction to the performance of the song during the Sunday service was mixed, as one online viewer wrote, "Next time, do Slayer's 'South of Heaven' and do [a] series on Bible prophecy or Hell."
"This is shameful! AC/DC in church," another lamented.
J.C. Ryle, a respected leader in Church history known for his books "Holiness" and "Practical Religion," once wrote in addressing worldliness in the Church, "On every side we hear professing Christians declaring loudly that we must not be 'narrow and exclusive' and that there is no harm in many things which the holiest of saints of old thought bad for their souls, that we may go anywhere, and do anything, and spend our time in anything, and read anything, and keep any company, and plunge into anything—and all the while may be very good Christians!"
"This, this is the maxim of thousands," he mourned. "In a day like this, I think it good to raise a warning voice, and invite attention to the teaching of God's Word. It is written in that Word, 'Come out, and be separate.'"
A call to Pointe Church for comment was unreturned.
Performance begins at approximately 24 minutes into the service.
A special message from the publisher...
Dear Reader, because of your generous support, we have received enough funds to send many audio Bibles to Iraqi and Syrian refugees displaced by ISIS in the Middle East. Many have been distributed and received with gladness. While we provide for the physical needs of the people, we seek to provide the eternal hope only found in Jesus Christ through the word of God.
Would you join us by making a donation today to this important work?
Please click here to send an audio Bible to a refugee family >>