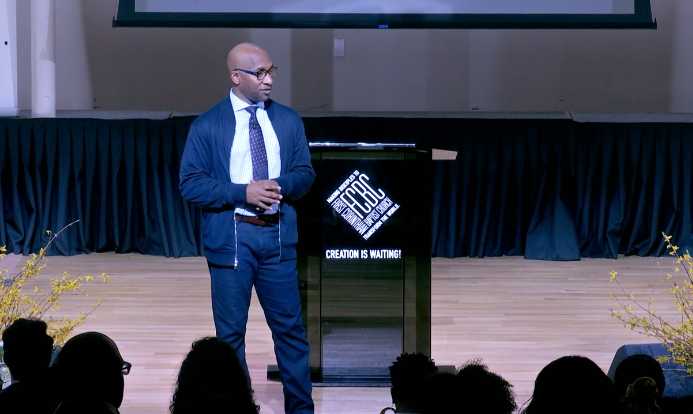 NEW YORK — A megachurch minister recently told his congregation that he thinks it's "insanity" to believe that men will go to Hell for rejecting Christ, and claimed that it is "not even what Jesus believes." His comments have been met with outcry as blasphemy and false teaching from many who have viewed an online video clip of his remarks.
Michael Walrond, Jr. leads First Corinthian Baptist Church in Harlem, an assembly that has expanded from 350 members to 10,000 members within the past 14 years, according to its website.
"We are an ever evolving community of visionaries, dreamers, and doers who have been called by God to live the lives we were created to live; commanded by God to love beyond the limits of our prejudices and commissioned by God to serve," First Corinthian's purpose statement reads.
Walrond asked those present during the Feb. 25 service to read the statement aloud, which he characterized as being comprised of "transcendent words," that is, applicable to all belief systems and not one specific religion.
"[T]hey are transcendent words, transcendent statements, which means they are not relegated to any one religion or set of beliefs," he said. "If you are a person who believes in God, these words can apply to you, no matter what your faith background."
"We get so twisted in this country and in many cultures to create divides and boundaries and barriers between human beings because of our faith difference," Walrond continued. "Think about it: that we use the thing that we think makes us closer to God [as] the very thing to divide us from one another at times. And that makes no sense."
He elaborated further, stating that he is not a person who believes that those who reject Jesus will go to Hell. He claimed that the "key" is to simply believe in God.
"And so, I'm not one of those people—There was a time when you would see people in the pulpit say, 'Well, if you don't believe in Jesus, [you're] going to Hell.' That's insanity in many ways because that is not what Jesus even believes," Walrond asserted, generating a smattering of applause. "And so, the key is you believe in God. And whatever your path is to God, I celebrate that. Personally, I celebrate that…"
Walrond, who had been named "One of the Lord's Foot Soldiers" by Newsweek Magazine, suggested that if men cannot be united regardless of religion, there is a problem with man's understanding of God.
"Again, we have enough in this world that divides us. We need to find those things that bring us together," Walrond said. "And if God cannot bring us closer together, then something is wrong—not with God, but in how we think we know God and understand God."
A video of Walrond's comments was shared to social media by Kevin Davis, the minister of music at Friendship Baptist Church in The Colony, Texas, generating 75,000 views and numerous comments, both for and against Walrond.
"7-9 billion people on the planet with thousands of belief systems. One would have to be closed minded and ignorant to think that Christianity is the only way to righteousness," one commenter wrote. "There are tribes that have no contact with civilization who have no idea about Jesus or a Bible. We should celebrate all paths that lead to righteousness."
"Jesus said 'I am the way,' not one of the ways. As a pastor you personally are going to give an account for leading your flock the wrong way," another stated.
"So, exactly why did Jesus go through the excruciating death of the cross? Why did God even set a people apart? Why was it necessary to slaughter lambs, goats and doves as a sacrifice for sin? Why bother with Christianity at all? You, sir, will answer for this blasphemy," a third remarked.
"[T]his preacher, who is worried about Jesus dividing the people, is so wrong, and [I] am doubting his ability to lead his congregants," another said. "Jesus himself said, I came to separate a daughter from her mother, a son from his father, a sister from a brother, etc. (Luke 12:51-53), and what He meant by that was He is the word in John 1:1-5 and it is the word of God that separates good from evil. Good and evil can never blend. Light and darkness can never mix. Truth and lies can never agree. So Mr. preacher, read your Bible and ask the Holy Spirit to help you understand the word of God."
"Pastor needs Jesus … deceived and deceiving. But the saddest part is the 'amen corner' agreeing with the hogwash coming from the pulpit," one also lamented.
Watch the video clip here, and view Walrond's remarks in context here.
Jesus proclaimed in John 14:6, "I am the way, the truth, and the life. No man cometh unto the Father but by Me."
He also declared in John 8:24, "I said therefore unto you that ye shall die in your sins, for if ye believe not that I am he, ye shall die in your sins."
Jesus similarly preached in John 3:36, "He that believeth on the Son hath everlasting life, and he that believeth not the Son shall not see life, but the wrath of God abideth on him."
He further warned in John 10, "Verily, verily, I say unto you, He that entereth not by the door into the sheepfold, but climbeth up some other way, the same is a thief and a robber. … I am the door. By me, if any man enter in, he shall be saved, and shall go in and out, and find pasture."
Acts 4:12 likewise teaches, "Neither is there salvation in any other, for there is none other name under Heaven given among men whereby we must be saved."
Become a Christian News Network Supporter...

Dear Reader, has ChristianNews.net been of benefit and a blessing to you? For many years now, the Lord has seen fit to use this small news outlet as a strong influential resource in keeping Christians informed on current events from a Biblical worldview. With much compromise and many falsehoods in modern-day Christianity, we strive to bring you the news by keeping Christ and His word in focus.
If you have benefited from our news coverage, please prayerfully consider becoming a Christian News supporter by clicking here to make a one-time or monthly donation to help keep the truth of God's word widely and freely published and distributed.
May Christ continue to be exalted through this work!