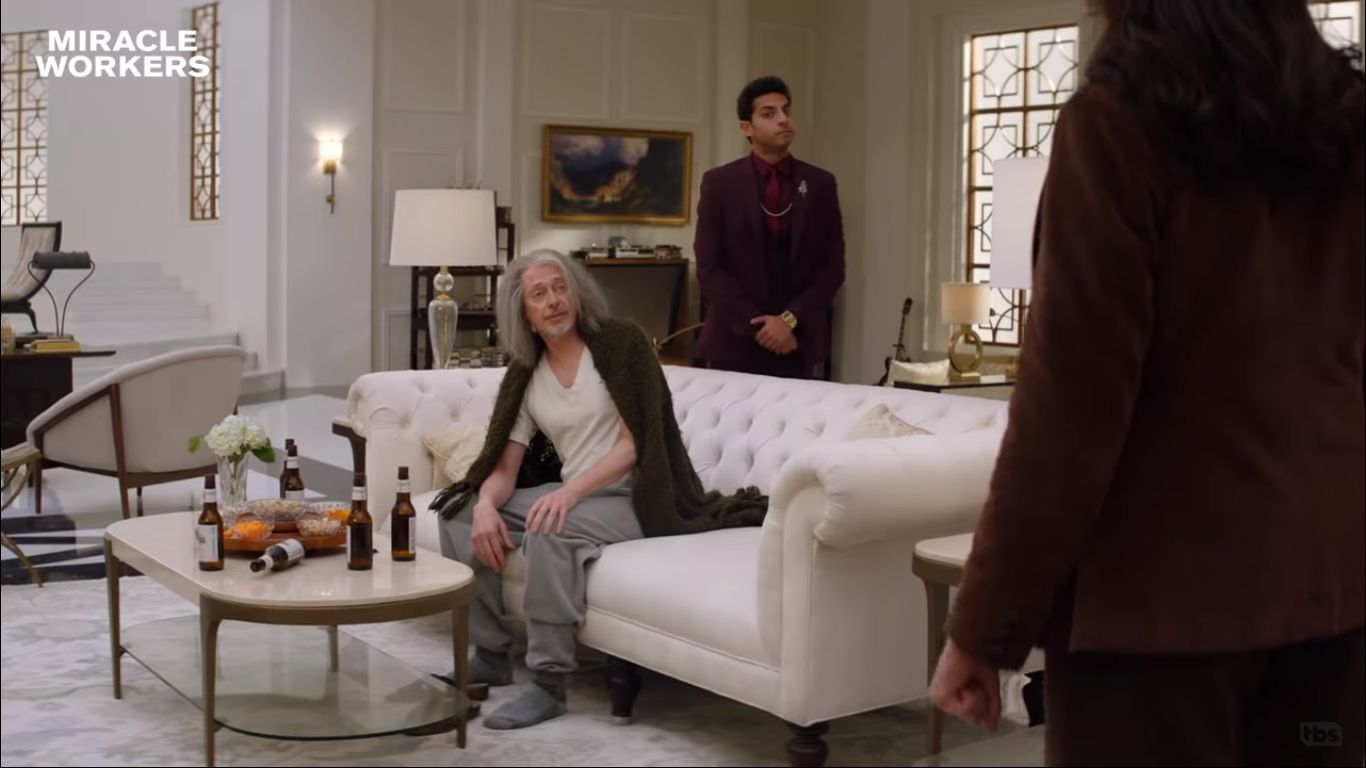 Concerns are being raised over a blasphemous new television show called "Miracle Workers" that depicts God as a bumbling, Michelob-guzzling, uncaring figure who decides to blow up Earth, and is faced with a bet from a female worker that if she can answer even a single prayer marked "impossible" that he must spare the world. The prayer ends up being the task of helping a man and woman fall in love, and the divine asserts that in order for the bet to count, the man and woman should have "full sex."
"Can we truly know and love the Lord and not be appalled when His good name is dragged through the mud and unbelievers are turned away from Him via the wicked caricatures done by the God haters in Hollywood?" Joe Schimmel, pastor of Blessed Hope Chapel in Simi Valley, California and host of the documentary "Hollywood's War on God," writes in a post on the show, which debuted Feb. 12.
"If my wife, children or friends were mocked and derided in such a way, I would be heartbroken. I certainly wouldn't watch it for entertainment!" he exclaimed. "How much more heartbroken should we be when our Creator and Redeemer is mocked and blasphemed?"
The show, which began airing last month on TBS, is based on the Simon Rich book "What in God's Name," and features actor Steve Buscemi as god ("Hotel Transylvania," "The Boss Baby," "The Sopranos"), as well as Daniel Radcliffe ("Harry Potter" series) as an angel named Craig who works in "The Department of Answered Prayers."
It is Radcliffe's job to answer the billions of prayers sent to Heaven, and he notes that with help from his new assistant Eliza, played by Geraldine Viswanathan ("Emo the Musical," "The Package," "Janet King"), maybe he can answer up to six prayers a day.
In an interview with Collider, Radcliffe explained that, according to the story, entry into Heaven is "random" and those who make it into Heaven are assigned jobs in various departments related to the function of the earth.
"Everyone is randomly assigned roles when they get in to Heaven, and it's random whether you get into Heaven, in our story, as well," he stated. "There's one moment when Eliza is trying to rally the troops, and she's like, 'Come on guys, you know, we're all in Heaven, that means we're the best humanity has to offer.' And somebody else is like, 'No, no, no, that's not how it works. It's random.'"
Meanwhile, god, played by Buscemi, is depicted as nonchalantly lounging around on the sofa, drinking beer or playing the guitar.
In one episode, Eliza, who learns of a deadly typhoon, bursts into Buscemi's chambers just as he was sitting on the sofa in sweatpants and slippers, and expressing his love for his lazy susan snack tray, which is surrounded by bottles of beer.
"What's up?" he asks.
"There is a crazy typhoon happening and it's killing lots of people," Eliza says frantically. "Can you help?"
Buscemi, then laying on the sofa, replies, "I don't want to sound cynical, but what's the point?"
Eliza, taken aback by his apathy, tells Buscemi that people are dying and he is the only one who can fix it. She begs for his help.
Buscemi then gathers all of Heaven together, where he casually announces that he has "decided to blow up Earth," waves to the people and walks away.
As Eliza later again speaks to the blase' Buscemi and tries to convince him that Earth is worth saving, he points to a pile of prayer requests that have been marked "impossible." Eliza offers to help answer the prayers herself, and makes a bet with god after he doubtfully remarks that she couldn't answer "a single one of those."
"If I answer one of these impossible prayers, you spare Earth," she offers.
Buscemi then adds to the deal, "But, if you fail … you have to eat a worm alive—the whole thing, the head and the butt—in front of everyone."
He gives her two weeks to answer a single prayer else the earth be destroyed. Eliza and Craig then go through the stack to find one request that they think they can tackle, and land upon two separate prayers from a young man and woman who like each other and pray that a relationship will happen.
Eliza and Craig go to Buscemi to present their selection, and he tells them that he thinks the two need to have "full sex" in order for the prayer request to count as being answered. Craig suggests a kiss instead. Buscemi then has the destruction of Earth placed on a timer and laughs that Eliza had picked the hardest prayer request in the box.
While some, including professing Christians, have stated that they find the show to be humorous, others say that such depictions of the holy and righteous God of Heaven are utter blasphemy.
Schimmel, who is already familiar with author Simon Rich and his "Book of Simon"—which puts a spin on the Book of Job, but with Satan winning Job and God pouting—said that "Miracle Workers" makes God look like "a crack head that is so obsessed with worthless hobbies, like pretending to be a rock star, that he couldn't care less about the prayers of His suffering creatures."
Nothing could be further from the truth, he stated. All one has to do is look at what Christ has already done for us on the cross.
"The truth is that God is not indifferent to our suffering, nor is He afraid of leaving Heaven and coming to Earth, as He is so depicted in 'Miracle Workers.' In fact, the reality is that God actually left Heaven and came to Earth and partook of our humanity and entered into our suffering (John 1:1-14)," Schimmel outlined.
"He was rejected and beaten beyond that of any other human being (Isaiah 53). He was mocked and blasphemed and finally crucified, bearing the suffering, wrath and shame that Simon Rich, you, and I deserve. He was condemned, bearing our punishment so that we could be accepted and enter into Heaven upon our death," he explained.
Schimmel said that Rich's depiction of God reminds him of the prophecy in 2 Peter 3:3-4, which speaks of the scoffers of the last days.
"The truth is that God does not permit injustice because He is indifferent to evil, but because He wants to deliver us from the evil within our hearts," he outlined. "If God did not give us time to repent and He gave us what we deserved all at once, Simon Rich and the rest of us would have been destroyed a long time ago. We should all thank God for His great longsuffering, because if He were not patient, we would all be toast!"
"However, because God is just and righteous, He will eventually judge the world in righteousness," Schimmel continued. "In fact, right after the Lord declares that mockers like Simon Rich would come in the last days, He states 'it escapes their notice' that God has judged the unrepentant wicked world before with a flood and that He will do so again with fire."
He pointed to the Scriptures' teaching that in God's merciful compassion, He is giving time for men to repent of their sins and surrender to the Savior.
"The Lord is not slow about His promise, as some count slowness, but is patient toward you, not wishing for any to perish, but for all to come to repentance," 2 Peter 3:9 reads.
Schimmel said that as one who formerly blasphemed God himself, he prays that Rich and all who do not know Christ will "turn to the Lord before it is too late."
"Let us call on the Lord for salvation now, while there is still time," he exhorted. "For the day is soon coming when He will 'execute judgment upon all, and to convict all the ungodly of all their ungodly deeds which they have done in an ungodly way, and of all the harsh things which ungodly sinners have spoken against Him' (Jude 1:15)."
The group One Million Moms launched a petition drive against the show last month, which has generated 11K signatures as of press time.
Become a Christian News Network Supporter...

Dear Reader, has ChristianNews.net been of benefit and a blessing to you? For many years now, the Lord has seen fit to use this small news outlet as a strong influential resource in keeping Christians informed on current events from a Biblical worldview. With much compromise and many falsehoods in modern-day Christianity, we strive to bring you the news by keeping Christ and His word in focus.
If you have benefited from our news coverage, please prayerfully consider becoming a Christian News supporter by clicking here to make a one-time or monthly donation to help keep the truth of God's word widely and freely published and distributed.
May Christ continue to be exalted through this work!