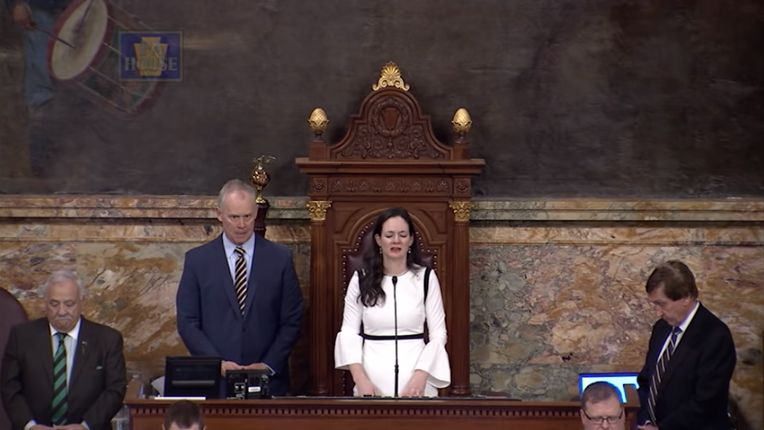 HARRISBURG, Pa. — A lawmaker in Pennsylvania has introduced a resolution that would collectively chastise a member of the Commonwealth's House of Representatives for recently declaring Jesus as the nation's "only hope," and that at His name "every knee will bow" — among other numerous references — during a prayer that was delivered shortly before a Muslim legislator was sworn into office.
"A prayer that cites a particular religious belief as 'our only hope,' that 'we've lost sight of you, we've forgotten you, God, in our country, and we're asking you to forgive us,' and that 'every knee will bow, and every tongue will confess' is unnecessarily divisive and polarizing," the resolution, presented by Rep. Kevin Boyle, D-Philadelphia, reads.
Boyle, a Roman Catholic, says that he walked out of the chambers during the opening prayer delivered by Rep. Stephanie Borowicz, R-Clinton, on March 25 because he found it to be political and "over-the-top." A lawmaker or other entity delivers an invocation at start of business in the House each day, and that day happened to be Borowicz's turn.
"Jesus, I thank you for this privilege, Lord, of letting me pray," Borowicz began. "That I, Jesus, am your ambassador here today, standing here representing You, the King of kings, the Lord of lords, the great I Am, the One who is coming back again, the One who came, died and rose again on the third day."
She thanked God that the nation's founders, such as George Washington and Abraham Lincoln, sought after God in their leadership capacities.
"God, forgive us. Jesus, we've lost sight of You," Borowicz then lamented. "We've forgotten You, God, in our country, and we're asking You to forgive us, Jesus. Your promise in Your word says that if My people, who are called by My name, will humble themselves and pray and seek [My] face, and turn from their wicked ways, that You will heal our land. Jesus, You are our only hope."
The pastor's wife also prayed for Pennsylvania's political leadership, as well as President Trump. Borowicz's husband, Jason Borowicz, serves as an associate pastor at Crossroads Community Church in Jersey Shore.
"We ask that we not be overcome by evil, but that we overcome evil with good in this land once again," she continued, referring to Romans 12:21. "I claim all these things in the powerful, mighty name of Jesus—the One who, at the name of Jesus, every knee will bow and every tongue will confess, Jesus, that You are Lord. In Jesus name, amen."
Borowicz soon drew criticism in light of the fact that her prayer, being so boldly Christian, preceded the swearing in of State Rep. Movita Johnson-Harrell, D- Philadelphia, a longtime Muslim. Johnson-Harrell had a number of friends and family members, who are also Muslim, present to observe her taking the oath of office.
"[The prayer] blatantly represented the Islamophobia, xenophobia, and bigotry that exists among some leaders," she told the Philadelphia Inquirer. "It was planned and meant to be insulting to me and my guests, and was done in the name of Jesus, which is blasphemy."
Gov. Tom Wolf, who identifies as a Methodist, said that he was "horrified" by Borowicz's prayer.
"I grew up in Pennsylvania. Pennsylvania was founded by William Penn on the basis of freedom of conscience. I have a strong spiritual sense. This is not a reflection of the religion I grew up in," he stated, according to USA Today.
DEFENSE OFFERED: CHRISTIANS WILL PRAY CHRISTIAN PRAYERS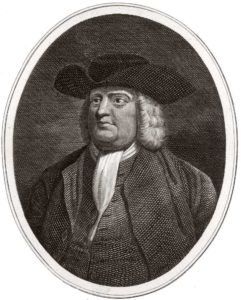 However, Borowicz said that she prays no differently any other time, including when she is praying with family and friends. She is also the founder of Make a Stand USA, an organization that seeks to "to hold prayer rallies in each state, bringing the country back to God."
"I had no idea that that would cause controversy. It wasn't directed at anyone," she told the American Pastors Network.
The organization defended Borowicz in noting that Penn founded the Commonwealth of Pennsylvania on the Word of God, and that even the preamble to the Pennsylvania Constitution refers to "Almighty God." As previously reported, Penn was a street preacher, and was once put on trial for causing a "tumultuous assembly" with his preaching.
He was also the author of such books as "No Cross, No Crown: A Discourse Showing the Nature and Discipline of the Holy Cross of Christ."
"In fact, Penn dreamed to establish in Pennsylvania what was referred to as 'The Holy Experiment,' in which a colony would be founded that guaranteed religious freedom. But that freedom was based upon the truth of the Holy God of the Bible and His Son, Jesus Christ, as it states in John 8:32: 'And you shall know the truth and the truth shall make you free,'" explained Executive Director Gary Dull.
"The preamble of the Pennsylvania Constitution states: 'We, the people of Pennsylvania, grateful to Almighty God for the blessings of civil and religious liberty, and humbly invoking His guidance, do ordain and establish this Constitution …'" he continued.
"Beyond that, it does not take long for a person to notice when visiting the State Capitol Building in Harrisburg how many Bible verses are posted throughout that beautiful edifice."
Dull further explained that Christians often cite Scripture when praying, and doing so will naturally be offensive to unbelievers.
"In fact, Isaiah 30:9 says that spiritually rebellious people 'will not hear the law of the Lord.' So, we should not be surprised when some people object to the Word of God when it is read, spoken or used in our prayers," he said.
"When a person prays a 'Christian prayer' to the Christian God of the Bible, it only stands to reason that Christian and biblical terms will be used in that prayer," Dull added. "That may and will offend some people, but that does not mean that such a freedom should be taken away."
He stated that if a Muslim were praying, it would be understood that the Muslim would likewise speak in Islamic terms.
THE ISLAMIC PRAYERS THAT FOLLOWED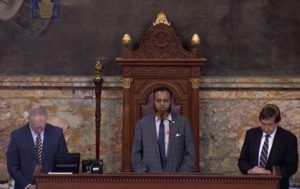 According to the Pennsylvania Capital Star, House Speaker Mike Turzai, R-Allegheny, whose office is charge of organizing the daily invocation speakers, also invited Muslim cleric Muhammad Chowdury to pray that day.
He took the podium following Borowicz and before Johnson-Harrell was sworn into office.
Turzai's office posted a video of Chowdury to YouTube, who spoke in Arabic, and also delivered the Surah Al-Fatiha from the Quran in song.
Additionally, as previously reported, Muslim lawmaker Jason Dawkins, D-Philadelphia, took the podium the following day and advised those gathered that he was going to provide a translation of the Surah Al-Fatiha — "yesterday's prayer that was offered for our newest colleague" — and "a breakdown of what it means."
"In the name of god, the lord of mercy, the giver of mercy: Praise belongs to [Allah], god of all works," Dawkins read. "The world of mercy, the giver of mercy, master of the day of judgment, it is you we worship, it is you we ask for help. Guide us to a straight path, the path of who those you have blessed, those who incurred no anger and [have] not gone astray."
According to an online explanation of the Al-Fatiha by Kamil Mufti, "The Quran begins with the proper, unique, and personal name of God, Allah. "I begin with the name of Allah" means a Muslim begins his recitation seeking the help of Allah. Allah is the God of mankind who alone deserves worship. No one else can take the name Allah."
"The verse tells us that a Muslim is not allowed to direct any act of worship, like prayer and asking for supernatural, help to anyone other than Allah."
While Dawkins did not use the name "Allah," but rather the general "God," he concluded his time at the podium with the Islamic "Ameen."
"As an American Muslim of this chamber, I've always carried myself as an example of what it looks like to be a Muslim," Dawkins also told those gathered prior to providing the translation. "And I wanted folks to see that from the actual actions of me and not the words that I say out of my mouth."
His remarks were met with applause at the conclusion of his presentation.
MOTION TO PRESENT PRAYERS 'RESPECTFUL OF ALL' RELIGIONS
In the meantime, some representatives continued to speak out against Borowicz's prayer, and Boyle crafted a resolution to both chastise the representative and urge lawmakers going forward to present prayers that are "crafted with the respect of all religious beliefs in mind."
"Representative Borowicz invoked Jesus, the Lord or God about a dozen times in her one-minute-forty-second prayer," he said in a statement." I cannot begin to imagine how uncomfortable that had to make Representative Johnson-Harrell and the 50 guests she had surrounded herself with that day from various religious backgrounds and beliefs."
"This is not your home where you can say whatever you want," Boyle asserted. "It is the Pennsylvania House of Representatives, where we show a common decency to one another."
His resolution characterizes Borowicz's prayer as "[a] fire and brimstone prayer" that "epitomizes religious intolerance."
"Whereas, prayers offered before the House of Representatives in the daily order of business should reflect mutual respect and religious tolerance of our colleagues and constituents, and not intimidate, demean or degrade, therefore, be it resolved that members of the House of Representatives who have the opportunity to offer a prayer in the course of a legislative session are urged to follow the request of Speaker Turzai to 'craft a prayer that is respectful of all religious beliefs,'" the proposal reads.
Read the resolution in full here.
The measure was referred to the House Rules committee on Tuesday.
In Matthew 10:32-33, Jesus said, "Whosoever therefore shall confess Me before men, him will I confess also before my Father which is in Heaven. But whosoever shall deny Me before men, him will I also deny before my Father which is in Heaven."
He also warned in Mark 8:38, "Whosoever therefore shall be ashamed of Me and of My words in this adulterous and sinful generation, of him also shall the Son of man be ashamed when He cometh in the glory of His Father with the holy angels."
Become a Christian News Network Supporter...

Dear Reader, has ChristianNews.net been of benefit and a blessing to you? For many years now, the Lord has seen fit to use this small news outlet as a strong influential resource in keeping Christians informed on current events from a Biblical worldview. With much compromise and many falsehoods in modern-day Christianity, we strive to bring you the news by keeping Christ and His word in focus.
If you have benefited from our news coverage, please prayerfully consider becoming a Christian News supporter by clicking here to make a one-time or monthly donation to help keep the truth of God's word widely and freely published and distributed.
May Christ continue to be exalted through this work!