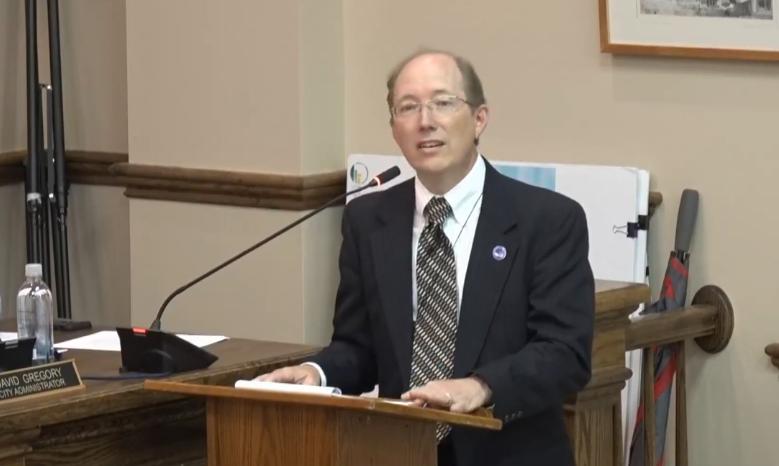 BEREA, Ky. — The president of the Kentucky Council of Churches expressed opposition on Tuesday to a proposal that would appoint a Baptist pastor to serve as a chaplain for the city and present prayers at public meetings.
In March, an atheist named Ali Blair delivered the invocation for the Berea City Council meeting, which stirred some in attendance to speak out during the public comment period, both for and against the occurrence.
"[L]ook within yourselves and invoke your own capacity for compassion, civility and reason, and let these things guide you as you make decisions tonight," Blair said during her prepared remarks.
The invocation consequently prompted a proposal that would ensure that the situation would not occur again. Municipal order 03-19 states that the "council intends to revise the policy of invocations by appointing a council chaplain to offer invocations before council meetings."
The selected chaplain was Kevin Slemp, the pastor of Berea Baptist Church. He would be paid $25 for each meeting.
However, some spoke against the idea during Tuesday's meeting, including those who identified themselves as Christians, claiming that it is unconstitutional and that there are more important issues for the government to focus on.
Tony Cracchiolo said that he asked others around the city what problems actually needed addressing because finding those interested in presenting the invocation is not a "problem." He stated sarcastically, "I thought you all had run out of problems."
He read a list of what residents had advised, stating that time would be better spent on those issues, from addressing homelessness, to potholes and sidewalks, to economic development, to an overhaul of the ethics code.
Cracchiolo said that Congress has a chaplain only because its representatives are thousands of miles away from their home church. As the residents of Berea go to church each Sunday just down the street, a chaplain is not necessary, he asserted.
"Then I remembered … [that] a Berean citizen, a person of no faith, came and gave the invocation," Cracchiolo stated. "And some of ya'll didn't like it. Some of ya'll as a matter of fact walked out. It was very dramatic and very rude, I thought. You didn't want to hear the voice of a Berean citizen come to offer well-wishes to this august and important body because they weren't of your faith."
"Well, I'm probably not of your faith," he added. "I'm a Christian, but I'm probably not of your faith. Should you turn my microphone off now, because that's what you're proposing to do with this order."
Kent Gilbert, who leads Union Church in Berea and is the president of the Kentucky Council of Churches, which represents over 1,000 churches in the state, said that his organization is "adamantly against" the proposal, asserting that it violates the Constitution because it favors a "single religious tradition over others."
Gilbert had spoken in 2011 in favor of a group called Bereans for Fairness, which according to its Facebook page, is "dedicated to advancing equality for lesbian, gay, bisexual and transgender Bereans and Kentuckians."
The Union Church website also includes a page as to why it supports same-sex relationships, claiming, "The Bible is fuzzy at best on matters of homosexuality" and that "[l]ove is love … and for God's sake it must not be limited or punished in whatever form."
"As you can well imagine, prayer is dear to me … and I also have been greatly privileged to go to some of the greatest theological schools there are in the country," Gilbert told the council on Tuesday. "And none of that means that my prayers as your chaplain or as an invoker of God's presence in these meetings is any more valuable than the prayers — or the silence — of anyone else."
"God ought not to be a point of division," Gilbert asserted. "We all need to be attentive to the ways in which our society is fragile. And religion ought not to be used to divide. And yet we all ought to be able to offer our prayers to the God as we understand God in each way."
Others who do not identify as Christian also spoke against the proposal.
"I've been in front of this council before with my discomfort with the prayer before the meeting. … Obviously, it fell on deaf ears," one man stated. "And this is just about excluding people and, pardon my language, [vulgar term] people off. This is about stoking cultural war junk."
"We're all good people," he continued. "This is just stupid. I'm sorry."
He said he rebutted the pastor years ago after the minister wrote a letter to the editor of a local newspaper opposing same-sex "marriage," and in his writings included homosexuality with incest and bestiality. Another woman remarked that to invite the pastor to serve as council chaplain in light of his remarks is "despicable."
According to the Lexington Herald Leader, the proposed ordinance was amended prior to the meeting to remove any payment for the chaplain position, and a disclaimer was added, which reads, "This policy is not intended in any way to affiliate the council with, nor express the council's preference for any faith or religious denomination."
The measure, which had been on the agenda for the night, was also pulled to give council members more time to consider the matter. While those who oppose the ordinance applauded the move, at least one resident, Shane Morris, said that Berea City Council should leave the proposal as is and refuse to back down.
"I can comprehend the plain language of the First Amendment," he said, noting that it applies to Congressional laws that favor a certain establishment of religion. "You're not the Congress."
"But the courts, you say? The courts are far from infallible," Morris continued, citing Dred Scott v. Sanford, Plessy v. Ferguson, Komatsu v. U.S and Roe v. Wade. "Regain your spine. The original ordinance is just fine."
View the various remarks below.
Council member Emily LaDouceur posted about the order last Saturday, calling it "ridiculous" and asserting that it violates the separation of Church and State. She said that while Slemp "baptized me many moons ago," she believes that the proposal "is intended to discriminate against and exclude faiths that are not a certain type of Christian in our council chambers."
"This is the religious right on our council responding to the fact that since an atheist gave the invocation, we've received requests from people of other faiths/non-faiths to give the invocation, including a Satanist. … It is religious zealotry, bigotry, and bias made formal through municipal order," she claimed. "This is divisive and I question even the legality of it."
As one outlet noted, the name Berea is a biblical word, as Acts 17 tells of the people of Berea and their diligent study of the Word of God.
"And the brethren immediately sent away Paul and Silas by night unto Berea, who coming thither went into the synagogue of the Jews. These were more noble than those in Thessalonica, in that they received the word with all readiness of mind, and searched the Scriptures daily, whether those things were so," Acts 17:10-11 states.
Become a Christian News Network Supporter...

Dear Reader, has ChristianNews.net been of benefit and a blessing to you? For many years now, the Lord has seen fit to use this small news outlet as a strong influential resource in keeping Christians informed on current events from a Biblical worldview. With much compromise and many falsehoods in modern-day Christianity, we strive to bring you the news by keeping Christ and His word in focus.
If you have benefited from our news coverage, please prayerfully consider becoming a Christian News supporter by clicking here to make a one-time or monthly donation to help keep the truth of God's word widely and freely published and distributed.
May Christ continue to be exalted through this work!