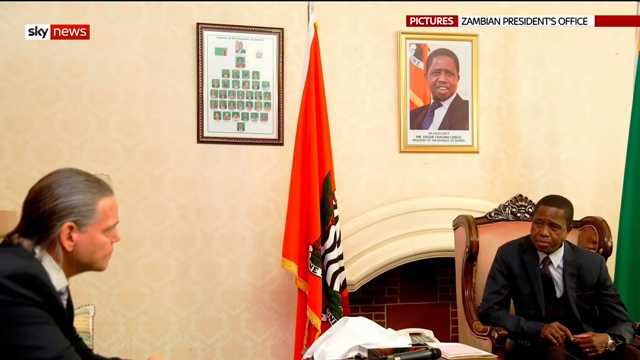 LUSAKA — The president of Zambia is continuing to resist the Trump administration's campaign to decriminalize homosexual sex acts worldwide, as U.S. Ambassador Daniel Foote threatened to pull aid to the African nation after two men received lengthy prison terms. President Edgar Lungu defended the sentence by declaring that homosexuality is "unbiblical and unChristian," and "we don't want it." Foote has now reportedly been recalled from the country as Lungu refuses to work with him, and a replacement is not expected anytime soon.
"We have complained officially to the American government, and we are waiting for their response because we don't want such people in our midst," Lungu advised on ZNBC-TV on Dec. 15. "We want him gone."
"You cannot ask a government to make a decision at gun point, [saying that] 'because we are giving you aid, we want you to do this.' You can't," Foreign Minister Joseph Malanji also remarked.
Foote, who was appointed in 2017 by the Trump administration, recently criticized the Zambian government after two men who were caught in the act of having sexual relations "against the order of nature" were sentenced to 15 years in prison.
Section 155 of the penal code in Zambia states that "[a]ny person who … has carnal knowledge of any person against the order of nature; or … permits a male person to have carnal knowledge of him or her against the order of nature is guilty of a felony and is liable to imprisonment for fourteen years" to life in prison.
"We know that there could be people who are homosexual in Zambia. But we don't want to promote it, because we frown upon it — the practice. Most of us say it's wrong. It's unbiblical, un-Christian and we don't want it," Lungu told Sky News on Dec. 2, adding that he felt the two men sentenced are "sick" and need help.
"Why should we be forced to do it … [W]e want to be seen to be smart, to be seen [as] civilized and advanced and so on," he continued. "If there are such countries which will allow bestiality, let them do it. But not here."
Lungu also remarked that the country would rather remain poor than have its financial aid being conditioned on such a matter.
"If that is the how you are going to bring your aid, I'm afraid that the West can leave us alone in our poverty and we will continue scrounging and struggling and see how we can get going," he stated.
View Lungu's remarks, in part, in the Sky News video report below.
Foote said that he was "horrified" at the severity of the sentence, and asserted that Zambians were not behaving in a Christlike manner because of the "venom and hate" that he received on social media following his remarks, which caused him to cancel a World AIDS Day event. He also expressed concern that Zambia was doing "untold damage to its international reputation by demonstrating that human rights in Zambia is not a universal guarantee."
"I thought, perhaps incorrectly, that Christianity meant trying to live like our Lord, Jesus Christ," Foote wrote in a statement. "I am not qualified to sermonize, but I cannot imagine Jesus would have used bestiality comparisons or referred to his fellow human beings as 'dogs', or 'worse than animals' — allusions made repeatedly by your countrymen and women about homosexuals."
He also expressed concern that "[d]iscriminatory and homophobic laws, under the false flags of Christianity and culture, continue to kill innocent Zambians, many of whom were born with the [AIDS] virus. Your citizens are terrified of being outed as HIV-positive, because of the inaccurate and archaic associations between HIV and homosexuality."
"My job as U.S. ambassador is to promote the interests, values, and ideals of the United States," Foote explained at one point. "Zambia is one of the largest per-capita recipients of U.S. assistance in the world, at $500 million each year. In these countries where we contribute resources, this includes partnering in areas of mutual interest, and holding the recipient government accountable for its responsibilities under this partnership."
Read his remarks in full here. 
According to Reuters, the Zambian government consequently sent a letter to U.S. officials, taking issue with his words and stating that the ambassador is "no longer tenable."
The U.S. subsequently decided to remove Foote from the country as Lungu does not want to work with him.
"Since Lungu says he does not want to work with Foote, there was no point of him remaining. Also don't forget that there are security issues so Washington wants their man back," an unnamed State Department representative told Reuters. "The U.S. cannot be paying a salary to someone who cannot work because the hosts don't want him."
The AFP also reports that the representative advised, "We do not expect a replacement soon." However, the U.S. desires "an open and frank relationship of mutual respect, commensurate with the generous aid provided to the Zambian people by the United States."
"The United States firmly opposes abuses against LGBTI persons. Governments have an obligation to ensure that all people can freely enjoy the universal human rights and fundamental freedoms to which they are entitled," they said.
THE CAMPAIGN TO DECRIMINALIZE HOMOSEXUALITY WORLDWIDE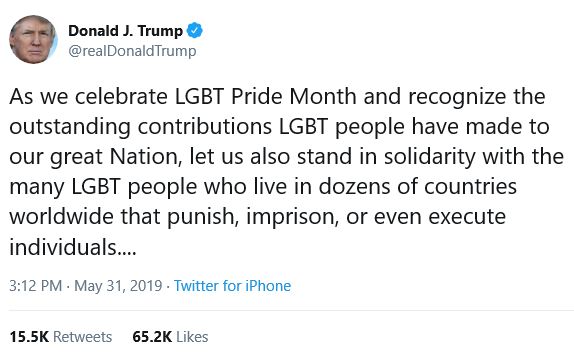 As previously reported, the Trump administration launched a global campaign to decriminalize homosexuality earlier this year, a move that Trump himself confirmed on social media in giving a nod to Pride Month.
"As we celebrate LGBT Pride Month and recognize the outstanding contributions LGBT people have made to our great nation, let us also stand in solidarity with the many LGBT people who live in dozens of countries worldwide that punish, imprison, or even execute individuals on the basis of their sexual orientation," he wrote.
"My administration has launched a global campaign to decriminalize homosexuality and invite all nations to join us in this effort!" Trump urged.
In February, NBC News reported that "[t]he U.S. embassy is flying in LGBT activists from across Europe for a strategy dinner to plan to push for decriminalization in places that still outlaw homosexuality — mostly concentrated in the Middle East, Africa and the Caribbean."
On Dec. 18, two U.S. ambassadors, including the openly homosexual Richard Grenell — who is leading the effort to decriminalize homosexuality worldwide — held an event at the United Nations entitled "Decriminalizing Homosexuality in Solidarity with LGBTQ People." He spoke of the 69 nations that currently criminalize sex acts between those of the same gender.
According to Fox News, countries on the list include Iran, Iraq, Kuwait, Saudi Arabia, Jamaica, Kenya, Senegal, Cameroon Antigua, Barbuda, Syria and Yemen. The outlet notes that 33 African countries recognized by the U.N. consider homosexual sex acts a crime. Punishments vary from nation to nation, from jail time to the death penalty.
"I want these countries to be called out! I want these countries to feel the pressure! This list should be read here every day," Grenell said.
Others on the panel included Robert Destro, the Assistant Secretary of State for Democracy, Human Rights and Labor; Stuart Milk, the executive director of the Harvey Milk Foundation and nephew to Milk; and Johnnie Moore, commissioner for the United States Commission for International Religious Freedom and former senior vice president for communications at Liberty University.
"We need religious leaders to stand up and say, 'This is not only a bad law that needs to be changed, but it is in defiance of the human dignity of an individual,'" Moore said, according to Fox News.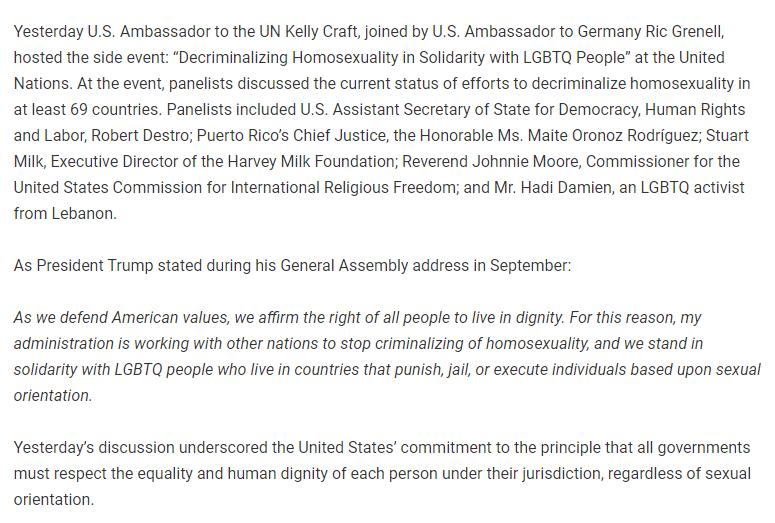 The press release surrounding the event also pointed to the exhortation of President Trump in September at the U.N. General Assembly:
"As we defend American values, we affirm the right of all people to live in dignity. For this reason, my administration is working with other nations to stop criminalizing of homosexuality, and we stand in solidarity with LGBTQ people who live in countries that punish, jail, or execute individuals based upon sexual orientation."
Read the press release in full here.
As previously reported, in 2003, the U.S. Supreme Court legalized sodomy nationwide in the case of Lawrence v. Texas, which involved two men that had been charged with "deviate sexual intercourse" after they were caught engaging in a sexual act while police were investigating a complaint of a weapons disturbance.
"The case does involve two adults who, with full and mutual consent from each other, engaged in sexual practices common to a homosexual lifestyle. The petitioners are entitled to respect for their private lives. The State cannot demean their existence or control their destiny by making their private sexual conduct a crime," wrote Justice Anthony Kennedy, a Reagan nominee. "Their right to liberty under the Due Process Clause gives them the full right to engage in their conduct without intervention of the government."
The majority of the concurrence was Republican, joined by two Democrats: David Souter, nominated to the bench by then-President George H.W. Bush; John Paul Stevens, nominated to the bench by then-President Gerald Ford; Sandra Day O'Connor, nominated to the bench by then-President Ronald Reagan; Ruth Bader Ginsburg, nominated to the bench by then-President Bill Clinton; and Steven Breyer, also nominated by Clinton.
ZAMBIA DAILY MAIL EDITORIAL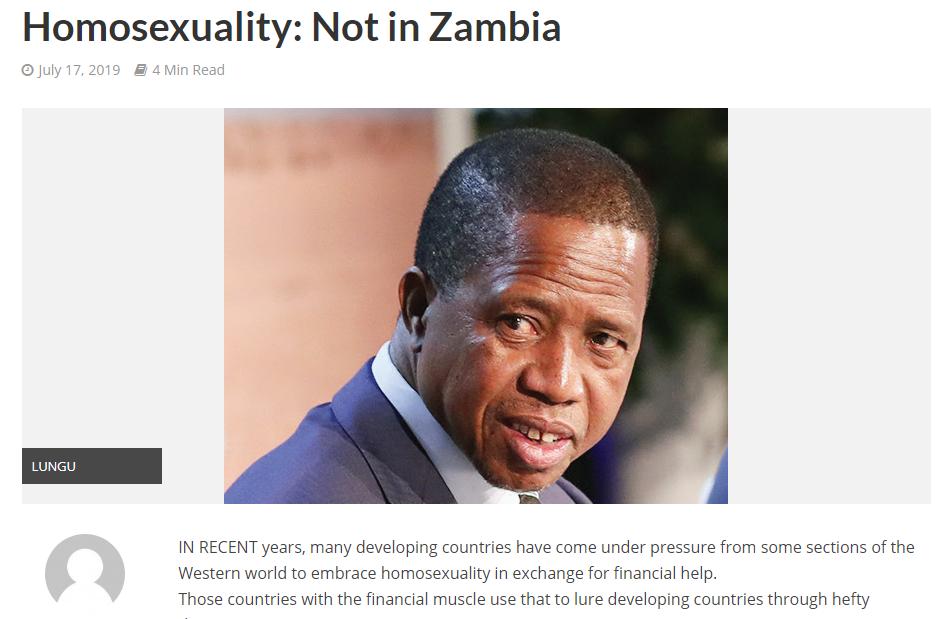 However, as previously reported, the Zambia Daily Mail published an editorial in July applauding Lungu's refusal to cave to pressure from various western nations, noting that Zambia is a Christian country that seeks to be governed by biblical principles.
"In recent years, many developing countries have come under pressure from some sections of the Western world to embrace homosexuality in exchange for financial help. Those countries with the financial muscle use that to lure developing countries through hefty donations," the piece read.
"For Zambia, which is a Christian nation as enshrined in the Constitution, embracing homosexuality is an affront to the declaration. Through the declaration as a Christian nation, Zambia chose to be governed by biblical principles," it stated.
"The Bible is very clear about homosexuality; it is an abomination and is detestable before the eyes of God. It is a rebellion against God. God created human beings as male and female to get married and multiply and raise families."
The outlet said that to disobey God is to provoke His wrath.
"God demonstrated His seriousness to His commands governing human sexuality when He rained down burning sulfur on Sodom and Gomorrah because of their involvement in homosexual activities (Genesis 19:24-25)," it outlined. "Whether proponents of homosexuality are aware or not, such acts attract the wrath of God."
It also stated that God's design was for children to be brought up by both a mother and father, and to deprive a child of that opportunity only brings confusion.
"The proponents are subtly packaging homosexuality as a sexual orientation and right. In whatever way it is branded, homosexuality is an abomination and has no place in Zambia," the editorial concluded.
Read the Zambian Daily Mail piece in full here. 
THE BIBLE ON HOMOSEXUALITY
As previously reported, The Bible teaches in Genesis 19 that the city of Sodom was full of various wickedness, including homosexuality. It states that as the men of Sodom saw angels enter into Lot's home, "both old and young" surrounded the house and called out, "Where are the men which came in to thee this night? Bring them out unto us, that we may know them."
"I pray you, brethren, do not so wickedly," Lot replied.
The angels then "smote the men that were at the door of the house with blindness" so that they could not enter, and advised Lot, "[W]e will destroy this place, because the cry of them is waxen great before the face of the Lord, and the Lord hath sent us to destroy it."
In the New Testament, Jude, the earthly brother of Jesus, pointed to the sorrowful fate of Sodom, writing, "Sodom and Gomorrah, and the cities about them in like manner, giving themselves over to fornication, and going after strange flesh, are set forth for an example, suffering the vengeance of eternal fire."
In Romans 1:26-27, the apostle Paul described homosexuality as being "against nature," "unseemly" and against "the natural use of the woman," but declared with hope in 1 Corinthians 6:11, "And such were some of you: but ye are washed, but ye are sanctified, but ye are justified in the name of the Lord Jesus, and by the Spirit of our God."
Become a Christian News Network Supporter...

Dear Reader, has ChristianNews.net been of benefit and a blessing to you? For many years now, the Lord has seen fit to use this small news outlet as a strong influential resource in keeping Christians informed on current events from a Biblical worldview. With much compromise and many falsehoods in modern-day Christianity, we strive to bring you the news by keeping Christ and His word in focus.
If you have benefited from our news coverage, please prayerfully consider becoming a Christian News supporter by clicking here to make a one-time or monthly donation to help keep the truth of God's word widely and freely published and distributed.
May Christ continue to be exalted through this work!