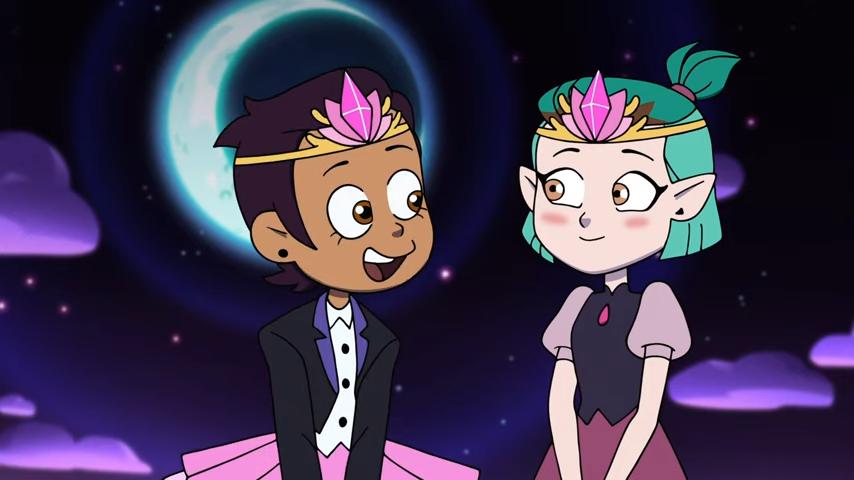 An animated series on the Disney Channel that centers on the adventures of a teenage girl who travels to another world and becomes a witch's apprentice features the first bisexual character to air on the youth-aimed station, it has been revealed.
"The Owl House" creator Dana Terrace recently outlined on Twitter that as she herself identifies as bisexual, she wanted to depict one of the characters as being attracted to both males and females. At first, she was told that such a depiction would not be allowed.
"In dev (development) I was very open about my intention to put queer kids in the main cast," Terrace wrote. "I'm a horrible liar, so sneaking it in would've been hard haha. When we were greenlit, I was told by certain Disney leadership that I could NOT represent any form of bi or gay relationship on the channel."
However, Terrence said that she continued to push the idea and was eventually given the go-ahead.
"I'm bi! I want to write a bi character, [expletive]! Luckily my stubbornness paid off and now I am VERY supported by current Disney leadership. Not to mention the amazingness of this crew," she stated.
"The Owl House", which began airing in January of this year, is a fantasy series about a 14-year-old girl named Luz (played by Sarah-Nicole Robles) who travels to another world — the Demon Realm of the Boiling Isles — where humans are not well-liked. The Isles are stated to be a place where "every myth you humans have is caused by a little of our world leaking into yours."
Luz becomes the apprentice of a witch named Eda (played by Wendie Malick) and a demon who goes by the name King as he claims he was once a ruler and desires to regain his power (played by Alex Hirsch).
Students attend the Hexside School of Magic and Demonics, and inhabitants who "do not conform to the norms of society" are sent to the Conformatorium, supervised by Warden Wrath.
Episodes include "A Lying Witch and a Warden", "Witches Before Wizards", "Wing It Like Witches", and "Young Blood, Old Souls".
According to reports, in some episodes, Luz is portrayed as being attracted to men, but in the episodes "Enchanting Grom Fright" and "Wing It Like Witches", viewers note that the witch Amity begins forming a friendship with Luz and had intentions to ask her to prom (Grom) as her date. The two dance in one scene.
Terrace and others confirmed that the depiction of Luz was meant to be bisexual.
"Back when I made GF ('Gravity Falls') Disney FORBADE me from any explicit LGBTQ+ rep. Apparently 'happiest place on earth' meant 'straightest' But as of today, thanks to @DanaTerrace & team there are explicitly queer ANIMATED MAIN CHARACTERS on DISNEY TV. I'm so proud & happy to say that," wrote Alex Hirsch.
However, not everyone was thrilled about the revelation.
"Why not let children be children? Children don't need to learn about sexual orientations or sexual attraction on cartoons," one commenter wrote under Terrace's tweet. "No more 'Owl House' in my house."
"Children need to focus on being children, not sexuality at a young age. Disney's twisted, shoving alter-sexuality down our kids throats. No, at a young age, this isn't right, isn't normal and this agenda needs to be dismantled," another stated.
"Adults should stop trying to get into children's heads. These are adult topics being forced into tender innocent minds. Shame," a third likewise opined.
As previously reported, besides its more recent inclusion of homosexuality in its productions ("Andi Mack", "Star vs. the Forces of Evil", "Beauty and the Beast", "Onward", "DuckTales"), Disney, known for its "Magic Kingdom," has been recognized for decades for its focus on magic, sorcery and witchcraft, from its early productions of "Fantasia" (1940), "Snow White" (1937) and "Bedknobs and Broomsticks" (1971) to the present-day "Maleficent" (2014 and 2019), "Frozen" (2013 and 2019) and "Onward" (2020).
Witchcraft and homosexuality are both forbidden in God's law.
THE GOSPEL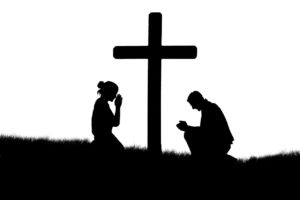 While a common argument among those who struggle with feelings toward the same sex is that they were "born this way," the Bible teaches that all are born with the Adamic sin nature (Romans 5:19), having various inherent feelings and inclinations that are contrary to the law of God and being utterly incapable of changing by themselves (Job 14:4).
All men, therefore, face the same predicament, being natural lawbreakers and guilty in the sight of God (Romans 3:19), evoking His wrath.
"[W]e all had our conversation in times past in the lusts of our flesh, fulfilling the desires of the flesh and of the mind, and were by nature the children of wrath, even as others," Ephesians 2:3 outlines.
"All we like sheep have gone astray. We have turned every one to his own way," Isaiah 53:6 reads, "and the Lord hath laid on him the iniquity of us all."
It is why Jesus came: to do what men could not do for themselves, to "save His people from their sins" (Matthew 1:21).
Scripture outlines that Jesus came to be the propitiation for men's sins (1 John 2:2; 1 John 4:10), a doctrine in Christianity known as substitutionary atonement, and to save men from the wrath of God for their violations against His law (Romans 4:25, Romans 5:9, Romans 5:16), a doctrine known as justification.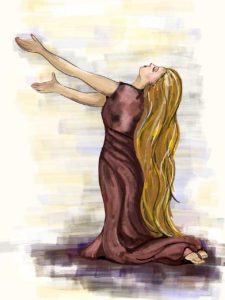 In light of Christ laying down his life for His enemies (Romans 5:10), God calls all men to repent and believe the gospel (Mark 1:15).
Acts 2:38-40 exhorts, "Repent, and be baptized every one of you in the name of Jesus Christ for the remission of sins, and ye shall receive the gift of the Holy Ghost. For the promise is unto you and to your children, and to all that are afar off, even as many as the Lord our God shall call."
The Bible also teaches about regeneration, as in addition to sparing guilty men from eternal punishment, Christ sent his Holy Spirit to make those who would repent and believe new creatures in the here and now, with new desires and an ability to do what is pleasing in the sight of God by His indwelling and empowerment (Ezekiel 11:19, 2 Corinthians 5:17, Titus 3:5).
Jesus said that men must be born again — a work of the Spirit transforming their very nature from being in Adam to being in Christ, or they cannot see the Kingdom of God (John 3:3-8).
"Jesus answered and said unto him, 'Verily, verily, I say unto thee, except a man be born again, he cannot see the kingdom of God.' Nicodemus saith unto him, 'How can a man be born when he is old? Can he enter the second time into his mother's womb and be born?' Jesus answered, 'Verily, verily, I say unto thee, except a man be born of water and of the Spirit, he cannot enter into the kingdom of God. That which is born of the flesh is flesh, and that which is born of the Spirit is spirit. Marvel not that I said unto thee, ye must be born again.'"
Ezekiel speaks of God transplanting the regenerated with a new heart and spirit, stating, "A new heart also will I give you, and a new spirit will I put within you, and I will take away the stony heart out of your flesh, and I will give you a heart of flesh."
Become a Christian News Network Supporter...

Dear Reader, has ChristianNews.net been of benefit and a blessing to you? For many years now, the Lord has seen fit to use this small news outlet as a strong influential resource in keeping Christians informed on current events from a Biblical worldview. With much compromise and many falsehoods in modern-day Christianity, we strive to bring you the news by keeping Christ and His word in focus.
If you have benefited from our news coverage, please prayerfully consider becoming a Christian News supporter by clicking here to make a one-time or monthly donation to help keep the truth of God's word widely and freely published and distributed.
May Christ continue to be exalted through this work!