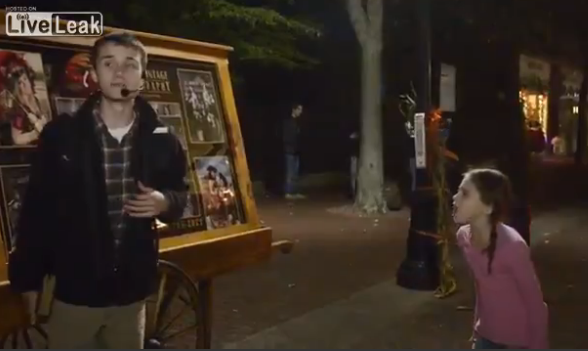 SALEM, Mass. – A video showing a little girl with pigtails screaming at a street preacher to 'shut up' as she relentlessly mocked him and his message of redemption through Jesus Christ has gone viral.
The video posted on Live Leak, which has been viewed more than 250,000 times, shows a child approaching a man who had been preaching on Salem's busy Essex Street pedestrian mall during the city's annual Halloween celebration.
Salem, which is also known as "The Witch City" and where police uniforms and patrol cars are even marked with the slogan and an image of a witch on a broom, hosts an annual event attracting tens of thousands of people to the city streets. This year police estimated upwards of nearly 100,000 people visiting the city for the annual celebration.
The city was the location of the Salem Witch Trials of 1692 and has a long history of witchcraft and paganism that continues to this day. Because of Salem's roots, the city hosts the month-long celebration called "Haunted Happenings," which includes a costume parade, witch-centered dramas, psychic readings, public fairs and carnivals.
A number of occult shops are especially visible during the month of October and the mockery of Christianity is commonplace within the city as some festival-goers dress in blasphemous costumes, mocking Jesus Christ and His crucifixion.
The event also attracts some local Christians and others from different parts of the country who seek to reach out to the lost through distributing gospel tracts, engaging in one-on-one discussion and publicly preaching the gospel of Jesus Christ.
In the viral video, recorded days before Halloween, the unidentified little girl with her hands tucked at her sides approached the preacher, leaned in and went on an unrelenting diatribe demanding that the young preacher "shut up," stating that his "pie hole should be quiet" and yelling "nobody wants to hear you!"
Nonetheless, he continued to calmly proclaim to passersby to turn from sin and to turn to God through Jesus Christ. Upon the mentioning of the Lord, the unruly child began to mock the name of Jesus. Despite the girl's repeated attempts to disrupt him, the man remained unfazed and continued preaching.
The preacher, who wished to remain anonymous, told Christian News Network that the Lord saved him two years ago after heading down a dark road in rejection of Christ and His Church. After being born again, he said that he knew "without a doubt" that God led him to Salem to preach to the thousands of Halloween revelers in the hope that some would come to repentance and believe the gospel of Jesus Christ.
"The message the Lord allowed me to preach throughout the night was about the rich young ruler as he ran to Jesus' feet, asking what he must do to inherit eternal life," he explained. "Jesus goes on telling the rich man, 'Thou knowest the commandments: do not commit adultery, do not kill, do not steal, etc.' The man says, 'I have kept all these from my youth up,' and then Jesus deals with the man's sin problem, which is the love of money and riches."
"Jesus says, 'One thing thou lackest: go thy way, sell whatsoever thou hast, and give to the poor, and thou shalt have treasure in Heaven. And come, take up the cross and follow Me.' Then the rich man went away grieved in his heart for he had great possessions," the preacher continued. "So, I preached this, and then saying, 'What sin is keeping you from taking up the cross and following Jesus?' Maybe it is the sin of stealing, adultery, fornication, covetousness or idolatry."
He said that the mother of the girl who yelled at him to "shut up" was "standing in the background, laughing and smiling as if she was proud her child was mocking" Christianity.
"The message I was preaching as the little girl walked up to me was, 'Prepare to meet thy God and repent before it is too late'—seeing our sin and turning from it," the preacher stated. "I also spoke about Lazarus and the rich man. The rich man loved his worldly treasures and pleasures too much to turn to God and in Hell he lifted up his eyes being in torments. So I asked, 'What sin do you love so much? What sin is keeping you from Heaven?'"
He said that he did not know why the cameraman was recording, nor his motives in posting the video online.
"He records us every time we go out to preach, only posting up certain sections of his recordings such as this video," the man noted.
He told Christian News Network that he attempted to speak to the girl and her mother, and did the following night when she came back and asked, "Do you remember me?"
Salem, however, is no stranger to targeting street preachers, which is seen as a threat to the city's annual celebration of death and darkness.
Last year, Phil Wyman, who refers to himself as a "spiritual adventurer" and "modern mystic" and runs the annual Halloween event's entertainment, along with a "confessional booth" and "dream interpretation" tent, targeted the street preachers.
During an interview on "Live From the Bay," Wyman explained that it is his custom to send men dressed in monk costumes to chastise street preachers and put distance between them and the area witches.
Wyman was expelled several years ago from the "International Church of the Foursquare Gospel" for forming too close of relationships to the area witches.
Immediately following last year's Halloween festival, local revelers demanded that city officials work to prevent the street preaching by cutting off their amplification so as to not to be heard above the din of all the noise and commotion. The city council did pass an ordinance banning its use during certain day hours but realized an outright ban would also free speech rights for all, including the entertainers and musicians that are likewise in town for the event.
The bizarre and anti-Christian behavior isn't limited to the city's Halloween festival, however.
Less than three weeks before Halloween this year, police arrested Brian Thomas Bennett of Beverly, Mass. after stunned onlookers watched him dig up a mid-1700's historic grave in broad daylight. Bennett was stopped just after uncovering the top of what police believed to be a crypt and was ultimately charged with desecrating a place of burial and disorderly conduct. He was also wanted on an outstanding warrant.
Salem Mayor Kimberly Driscoll also recently cut the city's contract with Gordon College in managing Old Town Hall because of the college's behavioral standards policy that prohibits staff and students from engaging in homosexual behavior. The policy likewise forbids fornication, drunkenness, profanity, blasphemy, lying and other behaviors that are contrary to biblical law.
"I hope you realize how hurtful and offensive these 'behavioral standards' are to members of the greater Salem LGBT community, some of whom are Gordon alumni, staff and/or students," Driscoll wrote in a letter condemning the school.
As for the street preacher, he says he will keep preaching the message of repentance and faith in Jesus Christ, His death, burial and resurrection as the Lord directs him.
"Repent, for the kingdom of heaven is at hand! Prepare to meet thy God! There is deliverance from sin in the perfect blood of Jesus Christ. Forsake sin, deny this flesh and take up the cross and follow the Lord. … Jesus Christ [is] the only way [and is] my and your only hope."
Become a Christian News Network Supporter...

Dear Reader, has ChristianNews.net been of benefit and a blessing to you? For many years now, the Lord has seen fit to use this small news outlet as a strong influential resource in keeping Christians informed on current events from a Biblical worldview. With much compromise and many falsehoods in modern-day Christianity, we strive to bring you the news by keeping Christ and His word in focus.
If you have benefited from our news coverage, please prayerfully consider becoming a Christian News supporter by clicking here to make a one-time or monthly donation to help keep the truth of God's word widely and freely published and distributed.
May Christ continue to be exalted through this work!