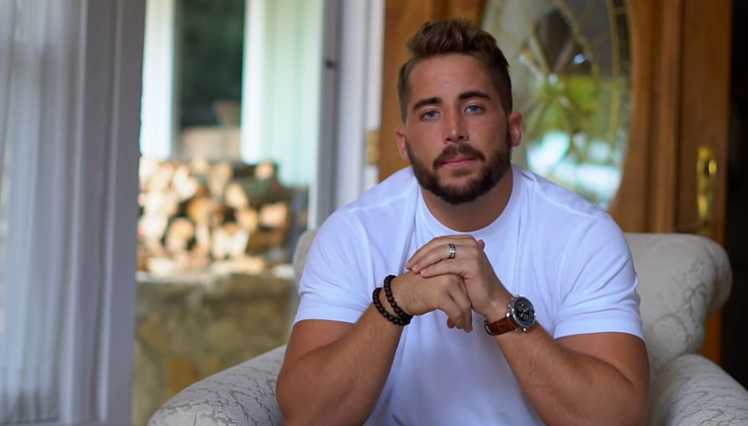 A self-described evangelist, author and poet who had his ministerial credentials revoked last month after confessing to sexual indiscretions with multiple women, including at least one of his followers, has decided to reject the counsel of his now former elders and found a new church—announcing a comeback.
Clayton Jennings, who stepped down from ministry just last month but changed his mind weeks later, announced this week in a YouTube video that he has "so much planned for next year." He also advised on Monday that his publisher will soon release his new book and that he has another "huge announcement" in the works.
"For all of you asking about my book, I had the publisher back up the release date to later this year to be launched with another HUGE announcement. Stay tuned! Can't wait for you guys to read this," Jennings wrote. "Until then, you can get my poetry cd here…"
Jennings also released a newly-produced new spoken word/poetic video on Tuesday outlining that he has battled depression for 10 years, and advising that he had lied in the past when asked if he was on medication. The video shows clips of Jennings re-enacting holding a bottle of pills, and attempting to drown himself in the bathtub or in the lake, reaching out for a hangman's noose or cutting his wrist.
"I have battles I wouldn't want you to see. And I always want people to see the best in me, but if you see the real me, you see something inside that's been festering. For 10 years, it's been eating me alive," he states.
However, the same day, the elders of Jennings' church, Harbour Shores Church in Cicero, Indiana, issued an email to the congregation expressing that they were "deeply saddened" by Jennings' actions as they advised that he had rejected their counsel to take time away in repentance, left the church for another and advised that he would resume his ministry.
The email noted that just last month, the elders had read a statement to the church advising that "the elder board recognizes (and Clayton agrees) that he should not be in full time ministry at this time. Clayton understands that he needs time to focus on his personal walk of repentance with Christ and on his relationship with his wife, Jamie."
But now, "After weeks of prayer, counsel and attempts at discipleship, it is with heavy hearts that we, the elders of HSC, must inform you that, due to Clayton's sinful choices and decisions, this statement is no longer accurate," the correspondence read.
"Clayton has chosen to reject instruction from God's Word regarding spiritual leaders and repentance, as well as the counsel of HSC yet intends to continue in ministry," it continued. "In November, we removed his license, we have made many attempts to correct him and he refuses to submit to the authority of Harbour Shores Church. Clayton has informed us that he has joined another church and is therefore now their responsibility."
The elders cautioned others from encouraging Jennings in his ventures at this time.
"We are deeply saddened by Clayton's decision and ask that you pray for his repentance and restoration. Additionally, we believe it is not appropriate to participate in any of his ministries, social media activity or related business ventures," they said. "We are grieved by Clayton's sinful choices and we continue to pray for all those affected by his sin and for his repentance."
Similar remarks were issued earlier this month by Tony Nolan, an evangelist and teaching pastor at Freedom Church in Acworth, Georgia, who initially had been approached by Jennings to work with him in a repentance process. The two put out a video together, which was posted on Jennings' YouTube channel, where Nolan expressed Jennings' alleged repentance and "humility."
Nolan, however, advised that just weeks later, Jennings changed his mind and said that he didn't need him after all and that he would be hiring a secular team for advice with damage control in the media.
"To update previous communication, with [a] heavy heart, I inform you Clayton Jennings has chosen to end the repentance/renewal process with me," Nolan posted publicly to Twitter and Instagram on Dec. 12.
"[H]e informed me that he had already privately confessed to God about these sexual sins that occurred during his public preaching ministry and he really did not need the process after all, and just needs the secular team to navigate from the media fallout," he explained.
THE PUBLIC CONFESSION
As previously reported, Jennings, who had been in the midst of promoting Tim Tebow's new book "Shaken," released a spoken word confession on Nov. 13, which had obtained nearly 200,000 views before he took it down this month.
"I never claimed to be perfect and I never said I was sinless. Presenting you with a fake facade of greatness is never why I got in this," he said in the video. "I want you to know this: I've sinned—a lot."
"I could tell you stories of my past sin, but I wouldn't know when to stop. I had sex before marriage and I broke a lot of hearts. And that's not even the worst part. Sometimes it was during seasons of ministry," Jennings admitted. "I led some girls on, and there were text messages of sex and sin."
His confession came in the middle of several women—six in all—coming forward to state that Jennings had manipulated them into sexual behavior, some just last year. Jennings married his longtime girlfriend in March 2016.
Two of the women, who released their stories here and here, claimed that Jennings gave them alcohol before becoming sexually aggressive, and one said that Jennings told her to take the morning-after pill because "his entire ministry would be ruined if I were to get pregnant."
They both asserted that Jennings asked for naked photos, and lied to them—claiming he was dying or his father was ill—as a means to abruptly break contact after having sexual relations and being assured spiritually that their physical contact was okay.
Jennings has said that while some of the women's details are false, he does not wish to elaborate on the matter. And while some state that Jennings manipulated women into sex and committed spiritual abuse by convincing them that the acts were not wrong in the sight of God, Jennings claims that he simply committed wrongdoing while dating.
"I thought I was just dating, but my actions were degrading. All the while my future wife stayed pure, praying and waiting," he says in the confessional video. "I was a sinner and I was a liar. I let down every single person I admired, but I especially let down my Lord."
"I am the chief of sinners and I've come to end of myself," Jennings states. "And the only thing that saved me was putting down my pride and picking up the Bible off the shelf. I wanted to find verses where Jesus called me forgiven and new, but God kept taking me to verses that showed me how bad my sin was and what He wanted me to do, and this is it (to confess)."
THE YES THEN NO
Christian News Network reached out to to Jennings last month after reviewing the evidence—including text messages and an audio file—and speaking with his father, Don Jennings, the senior pastor of Harbour Shores Church. Don Jennings advised that his son had come to him to confess and that he believed he was genuinely repentant. However, he said that he had been told by his son that he had only committed sin with one woman—that he had met with the woman, her mother and Jennings—and wasn't aware of anyone else.
However, weeks later, other women came forward to state that Jennings had also wooed them into sexual sin, and Jennings' soon-coming video confession acknowledged that he "broke a lot of hearts" and led "some girls on"—plural, not singular.
Prior to releasing the video, Jennings confirmed that he had sinned, but would not affirm that the matter involved multiple women. He said that he "would rather not talk about the allegations at this time" as he was focused on obtaining "counseling for past sins."
Jennings had also advised on Nov. 10 that he had decided not to release a statement as originally planned, but several days later, on Nov. 13, he published his poetic video confession to social media. The video featured a recorded introduction from Nolan, announcing that he was serving as a mentor to Jennings and asking viewers to pray for the evangelist.
But Jennings soon broke off receiving counseling from Nolan and then deleted the confessional video earlier this month. After his elders released an email this week to the congregation advising that Jennings had rejected their counsel to sit out for a time and focus on repentance, Jennings sent out an email making accusations against the elders and stating that he has moved on to a church "that is filled with grace and love."
"Jamie and I were offered a role with another church. We sensed that it was a door God had opened for us," he wrote, according to the Polemics Report. "We were so happy to be moving forward…"
"We are with a new church now that is filled with grace and love. We are so excited about the future and all that God has planned," Jennings continued. "I understand that being a public figure comes with attacks from people and the press. I also understand that I am guilty of certain sins in the past that I wish I could take back. Thankfully, God forgives and forgets, even when others try to hold it over your head and gossip/lie about it."
While denouncing his elders, Jennings praised his father, the senior pastor, stating that he had "led with grace." As previously reported, Christian News Network inadvertently received a email from Don Jennings earlier this month characterizing those who would ask questions about the issue as being "godless" and "set on destruction."
1 Thessalonians 4:3-5,7-8 reads, "For this is the will of God, even your sanctification, that ye should abstain from fornication. That every one of you should know how to possess his vessel in sanctification and honor, not in the lust of concupiscence, even as the Gentiles which know not God. … For God hath not called us unto uncleanness, but unto holiness. He therefore that despiseth, despiseth not man, but God, who hath also given unto us His Holy Spirit."
Become a Christian News Network Supporter...

Dear Reader, has ChristianNews.net been of benefit and a blessing to you? For many years now, the Lord has seen fit to use this small news outlet as a strong influential resource in keeping Christians informed on current events from a Biblical worldview. With much compromise and many falsehoods in modern-day Christianity, we strive to bring you the news by keeping Christ and His word in focus.
If you have benefited from our news coverage, please prayerfully consider becoming a Christian News supporter by clicking here to make a one-time or monthly donation to help keep the truth of God's word widely and freely published and distributed.
May Christ continue to be exalted through this work!