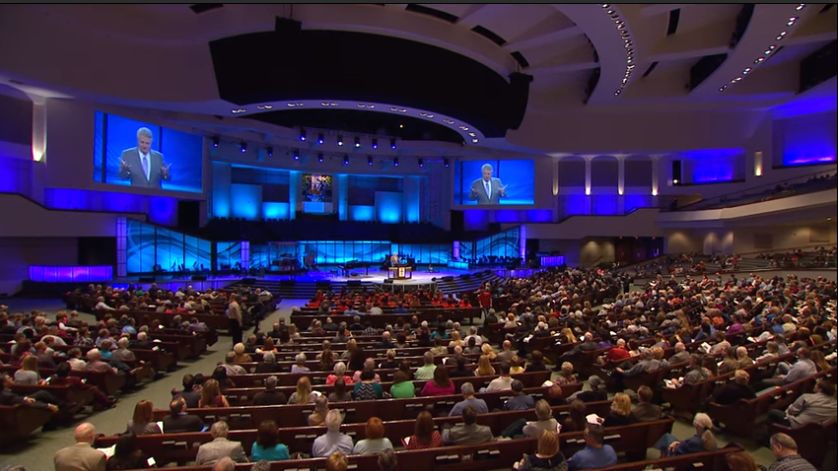 PLANO, Texas — Despite the mass outcry to outlaw abortion in Texas and grant the unborn equal protection under the law, megachurch pastor and former Southern Baptist Convention President Jack Graham has praised his church member and Republican House Chairman Jeff Leach after he decided that he could not support House Bill 896 because it subjects women who "undergo abortions" to "criminal liability." Leach's rejection of the bill, which would have protected babies in the womb in the same manner as newborns, has left many stunned, hurt and angry, with some vowing to vote him out of office.
"My pastor and friend, Jack Graham, pastor of Prestonwood and former SBC Baptist president, is strongly in support of my position," Leach, chairman of the House Committee on Judiciary and Civil Jurisprudence, wrote in response to a social media post on Thursday.
According to the church website, Prestonwood Baptist Church has more than 42,000 members and is one of the largest churches in America. Graham is known for his PowerPoint national television and radio broadcast, as well as his books "Man of God" and "Unseen: Angels, Satan, Heaven, Hell and Winning the Battle for Eternity."
Graham was the president of the Southern Baptist Convention from 2002-2004, and in 2015 he served as the honorary chairman of the National Day of Prayer. He is also a member of President Trump's Religious Advisory Board.
As previously reported, Graham retweeted Leach's statement on House Bill 896 Wednesday night, standing behind the chairman's opposition to charging mothers who seek out others to illegally kill their child if abortion became unlawful in the state.
"I support @leachfortexas 1000 percent. He is a caring and courageous congressman who is leading Texas citizens with grace and truth," he wrote.
Leach shared Graham's words, writing, "Thank you, pastor. Blessed to have your support and to follow in your footsteps boldly fighting for life and serving & meeting women at the point of their need. God is doing great things and the tide is turning!"
As previously reported, Leach said in his statement that he has been active with pregnancy resource centers on a personal level and has "authored and supported some of the nation's strongest laws." But, he contended that because of this and his stance on life, he cannot support the "Abolition of Abortion in Texas Act."
"My commitment to advancing the pro-life cause is stronger than ever, and that's why I cannot in good conscience support House Bill 896 — legislation that subjects women who undergo abortions to criminal liability and even the possibility of the death penalty," Leach wrote.
"Trusted pro-life legislators and advocates agree with me that this bill moves our state and the pro-life cause in the wrong direction and it will not be advanced from the House Committee on Judiciary and Civil Jurisprudence," he stated.
Leach had asserted during a public hearing on Monday that continued well into the night — as hundreds of residents flocked to the capitol in support of the bill — that women who are driven to abortion facilities by pimps would be charged with a crime.
"[U]nder the bill, a woman who is coerced and trafficked and driven by her pimp to an abortion clinic without a cell phone, with no freedom whatsoever, and is walked into an abortion clinic and said, 'You will get an abortion,' [she would be charged]," he claimed.
"For a woman who is coerced into having an abortion … The text of the bill is very clear: A woman who ends the life, which is recognized under this bill, is … potentially liable for capital murder," Leach stated.
It is not clear where Leach obtained the notion that the woman would be charged in such an instance, or how the situation would occur. Under the bill, abortion would be illegal, and there would be no abortion facility for the woman to enter. She would have nowhere to go and no abortionist to turn to.
The bill also states that the homicide charge would apply to the mother if there was murderous "conduct committed by" the woman — in other words, the commission of a self-abortion, where she personally kills her own baby.
The legislation would have removed an exception from current Texas criminal homicide law, which states, "This chapter does not apply to the death of an unborn child if the conduct charged is (1) conduct committed by the mother of the unborn child; (2) a lawful medical procedure performed by a physician or other licensed health care provider with the requisite consent, if the death of the unborn child was the intended result of the procedure … "
The law would have instead read, "Notwithstanding any other law, this chapter applies to the death of an unborn child regardless of whether the conduct charged is (1) conduct committed by the mother of the unborn child; (2) a procedure performed by a physician or other licensed health care provider …"
In Texas, women who kill or commit crimes against their newborn baby may be, and have been, charged with murder.
As previously reported, in February 2018, a young mother was charged with capital murder after stabbing her newborn daughter multiple times and leaving her body in a storage shed, where she was later discovered by the neighbor boy. The baby's death was found by the medical examiner to be due to "homicidal violence."
Months later, another mother was charged with attempted capital murder after giving birth at her place of employment, placing her newborn son in a garbage bag and walking him out to the dumpster to leave him for dead.
Headlines surrounding cases in other states have included, "'I Just Got Rid of It': Colorado Woman Accused of Tossing Newborn Over Fence Onto Neighbor's Deck," "Florida Mother Facing Murder Charges for Allegedly Killing Newborn Twins," and "Abortion Activists Want Attempted Murder Charge Dropped From Woman Who Used Coat Hanger to Kill Son."
Read the reports here, here and here.
According to a report from the Texas Policy Evaluation Project, a number of women within the state have "attempted to end a pregnancy on their own without medical assistance."
While a mother may be charged for killing their child even seconds after exiting the birth canal, Texas law prohibits women from facing any criminal penalties for intentionally harming or killing their baby in utero.
The 2003 Prenatal Protection Act criminalizes those who would harm an unborn child, but includes a "certain conduct excepted" section, which states, "This subchapter does not apply to a claim for the death of an individual who is an unborn child that is brought against the mother of the unborn child."
Tinderholt's bill sought to correct this allowance, as well as that under current criminal homicide law, and a number of residents who testified on Monday urged Leach to let the bill advance as is.
"These exceptions where a mother can do something a father can't do [they need to be removed]," a police officer declared. "A father, if he doesn't want to accept responsibility of his child and slips pills into a drink, and takes the life of his child, that's capital murder. A mother, [if] she slips a pill [and] doesn't want to accept responsibility — down her throat, takes the life of an individual, it's fine, pat on the back."
"In law enforcement, how can we say this is just?" he asked. "Our hands our tied where we're forced to be unjust in our dealings."
One woman stated that years ago, mothers did coat-hanger abortions because they knew would not be charged for committing the act.
"In 1973, before Roe v. Wade, abortion was illegal, except that a mother could not be prosecuted. This caused the coat-hanger abortions, because it was illegal for the doctors but not the mother, and they thought they should get away with this," she said. "HB 896 is rightly not retroactive."
"[I]f you believe that the unborn are made in the image of God, then the mother should be held accountable under the law, whether she murders the baby 12 weeks after it's born or 12 weeks in utero," another woman testified. "I am a woman, and women are equal to men under the law, whether we are the victims, whether we are the perpetrators, whether we are the mothers. Let us have equality before the law."
However, Leach retained his position that it would not be right for the woman to be criminalized, although it is not clear whether he solely has concerns over charging women who have an abortionist commit the act, or if he also disagrees with criminalizing self-abortions.
He shared two other tweets of support from stated pro-life groups that likewise oppose charging the mother.
"I do not support Texas #HB896, as it imposes a criminal penalty on women who get abortions. In my experience, many women get abortions out of fear, coercion, misinformation, or desperate circumstances. Women need compassionate and immediate care, not jail. #TXlege," wrote Brian Fisher of Human Coalition.
"We agree with Chairman Jeff Leach 100%, and we thank him for his leadership. Women were NEVER prosecuted for abortion in Texas or in any other state before Roe. Not right to start now. We need to focus on stopping abortion doctors, not prison cells for women," also remarked the Texas Alliance for Life.
However, others disagree that women should face no consequences surrounding the death of an unborn child.
"It's not graceful to say abortion is murder and then turn right around and demand that an exemption from punishment be granted to the murderer. That would literally be delusional," wrote Polk County GOP in response to Leach's post.
"This is horrible. You authored an identical bill last time. All murderers should be charged," wrote West Texans for Life. "The post-abortive women who testified before you made clear how important it is to allow the prosecution of women. We endorsed you in 2018. That will not happen again until you repent."
"Jeff, by doing this you are sentencing almost 120,000 innocent babies to death because of the fear that our justice system would wrongly rule on very few, if even 1 case of a forced abortion. You are wrong," also remarked Jonathan Murdock, pastor of First Baptist Church of Briar. "As I stated Monday, a bill has not been passed because men fear not God."
Since 1973, 60 million children and counting been aborted in the United States. Out of the seven justices on the U.S. Supreme Court that ruled in favor of Roe, five were Republican-appointed.
Become a Christian News Network Supporter...

Dear Reader, has ChristianNews.net been of benefit and a blessing to you? For many years now, the Lord has seen fit to use this small news outlet as a strong influential resource in keeping Christians informed on current events from a Biblical worldview. With much compromise and many falsehoods in modern-day Christianity, we strive to bring you the news by keeping Christ and His word in focus.
If you have benefited from our news coverage, please prayerfully consider becoming a Christian News supporter by clicking here to make a one-time or monthly donation to help keep the truth of God's word widely and freely published and distributed.
May Christ continue to be exalted through this work!