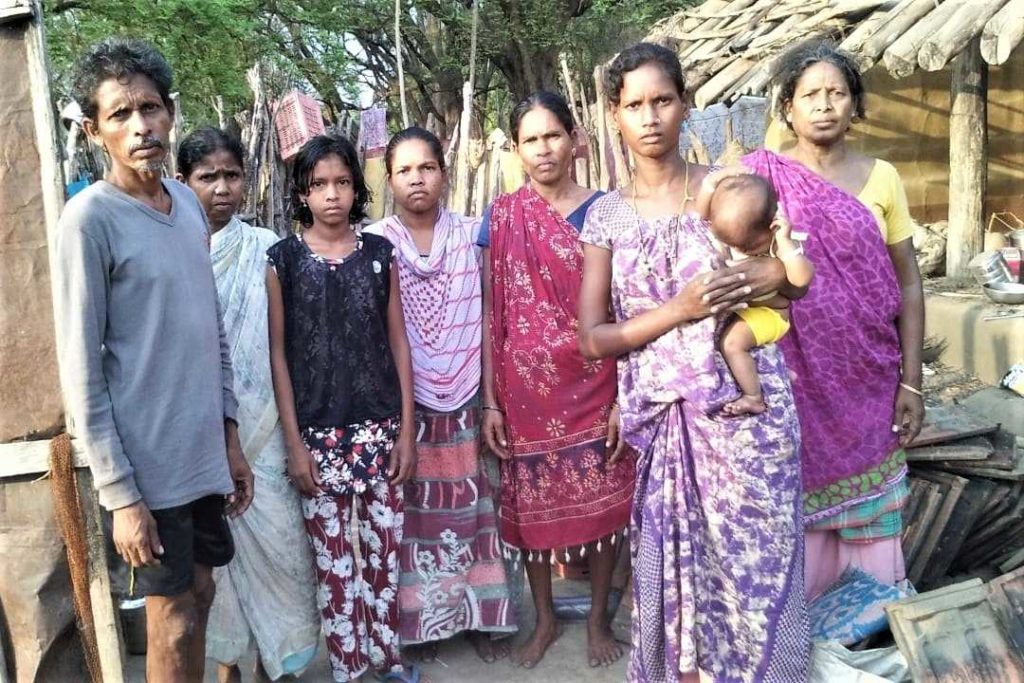 HYDERABAD, India (Morning Star News) – Christians in various villages of Chhattisgarh state, India are going hungry as members of tribal religions deprive them of work and refuse to sell food to them, sources said.
In the southern tip of Chhattisgarh state, villagers who practice tribal religion of ancestor and nature worship attacked the homes of three Christian families in Bodiguda village, Sukma District on May 23, leaving 25 people homeless, including four infants.
"Their homes are in ruins," area pastor Philip Veeti told Morning Star News. "They dumped food grains sufficient to feed the Christians for the entire year in the drain. The families are hardly able to fill their stomachs with the limited provisions they have."
The villagers on that day warned the Christians to abandon their faith or face death, he said. When the three families refused, a mob of about 150 people tore down the tiled roofs of the three houses of the tribal Christians, throwing out their clothes and other belongings.
The only breadwinners of the families, Sariam Virma, Kurram Desa and Panda Suba, fled to Injaram village 22 miles away, fearing for their lives, Pastor Veeti said. Their families in Bodiguda are living under the scanty shade of a Tamarind tree in temperatures that have hit more than 109 degrees Fahrenheit. The women have also set up a shed of wood and grass.
"The shed can barely provide any shade. They laid their children in sacks of leaves, but because of exposure to extreme hot sun, they suffered sun-stroke and have become very weak," Pastor Veeti told Morning Star News.
The tribal Adivasis also had attacked the families in 2017, demanding that the Christians cease worshipping in the village. Police refused to file the Christians' complaint against them, the pastor said.
Tribal villagers also attacked one of the female Christians in 2016, he said.
"They barged inside her house and beat her up badly. She screamed for help, but the neighbors, who are also Adivasis, did not come to her rescue," Pastor Veeti said. "The next morning, we sent her for treatment to a nearby hospital and also informed the police. But the police told the Christian families to compromise and not make it an issue. We could not file any case."
The pastor said Christians now only seek assurance from police that homes will be protected.
"The police must ensure their safety and security, but the station house officer is not available," he said. "A batch of policemen visited the site where Christians are camped under the tamarind tree, but they didn't file our complaint."
Police are biased and only tell the Christians that they must submit to the village council and Adivasi rituals and practices, he said.
"We are praying for funds to reconstruct their homes," he said. "The village council is not ready to compensate the loss. Even police do not care. We submitted a petition to the area sub-divisional magistrate, but no action has been taken so far."
Ban on Buying
Another Christian family, this one in the state's Charama village of Kanker District, cannot buy food and other basic necessities due to their faith, sources said.
Village elders on May 2 held a meeting to announce that Christians Vishweshwar Sahu, Shivprasad Sahu, Shravan Kumar and their families had been ostracized.
"Since the May 2nd announcement, the shopkeepers in the village refuse to sell even the basic necessities to us, not even the food grains," Vishweshwar Sahu told Morning Star News.
Sahu on May 17 filed a case before the sub-divisional magistrate of Kanker District. A hearing is scheduled for Friday (June 14).
The tribal religionists began shunning him 14 years ago, when they banned him from social gatherings, he said.
"Nobody talks to me," Sahu said. "I faced severe opposition during my daughter's marriage in 2014. The entire village boycotted her marriage. We made her marriage preparations by renting the tent from neighboring village, and Christians from neighboring villages joined us."
The same thing happened for his son's wedding in 2015, he added.
"The village heads are very angry that my children have been married to Christians, outside the village's customs," Sahu said. "Now, since the church is growing, my Hindu relatives instigate the villagers to ostracize any who would come to church and receive Christ. They hate me so bitterly that they would not even offer a glass of water if I'm thirsty. I'm an outcast to them."
Ban on Working
Earlier this year, leaders of Dargahan village, in Dhamtari District, summoned eight Christian families to announce that they would be economically ostracized.
The village council told them on March 30 that it had decided the Christians would not be allowed to work in the village, area resident Rajaram Nisad said. Christians immediately informed officers at Karegaon police station, who called both parties together to work out a compromise to no effect.
"The first two days after the police intervention, the villagers did not disturb us," Nisad told Morning Star News. "But after that, they again started harassing us."
The ban on work extends to movement in Dargahan, he said.
"We travel to neighboring villages to look for work," he said. "We are banished from traveling in public transport and other vehicles. We spend 1,000 rupees [US$14] or more to hire tractors from villages 15 miles far away."
Anyone in the village who talks to the Christians or offers them a ride in their vehicle is fined 5,000 rupees (US$72), he said.
"When some of my friends tried to speak to me, they were fined 500 rupees [US$7] each for violating the rules," he said.
The prohibition against working in the village includes working their lands, he said.
"Since our lands have not been cultivated for months now, we have a shortage of food grains," Nisad said. 'But the shopkeepers have been warned from selling goods to us. They will not grind our wheat and will not sell some rice or oil also. We are treated as untouchables, but we have not stopped gathering for worship on Sundays."
Reconversion Ritual
In Darashiv village of Champa District, followers of Satnami, which is similar to Sikhism, on April 12 organized a ritual to reconvert Christians back to their religion.
"They told us that it is a ritual to cleanse the village from Christianity, and forced us to take part in it," Yashoda Ratre, a 31-year-old mother of three said.
The villagers ordered Christians to bring incense sticks and coconuts to offer to their deities, she said.
"We refused to offer coconuts or bow before the deities, but three families gave in and renounced Christ," Ratre told Morning Star News.
These were not the first pressures she faced. When Ratre became the first person in her village to put her faith in Christ, her husband abandoned her and her then-15-month-old baby.
"I faced humiliation in my village, and they told my parents that I have been cursed for accepting a foreign faith," Ratre said. "I spent days and nights fasting and praying for my family that they also know Christ. Miraculously, by 2012, my father and his four brothers and their families received Christ."
Villagers have been harassing them since then, she said.
"They threatened us that they would stop the supply of drinking water and demolished the structures set as boundary to our plot," Ratre said. "The villagers, including my family and relatives at first, ostracized me and my infant son from their social gatherings."
The family has faced flooding without government aid because of their faith, she said.
"We survived storms, flood and hunger," Ratre said. "The village council set us aside from availing the benefits and supplies issued by the government during floods, but our Lord has been faithful all through. He blessed us with double the yield, and we had surplus for two years."
After her family became Christian, they arranged for her marry a pastor, Dildar Ratre.
"We are now blessed with two children," Ratre said.
A teacher at a rural child care center, she said mothers of her students often ask her to pray for them.
"If they see me passing by their homes, they invite me and ask me to tell them about Jesus or pray for their children when they fall sick," she said.
At the same time, Ratre wonders how long hostilities from many villagers will last.
"The shopkeepers have been warned from selling us daily supplies," she said. "We are ready to starve to death, but we will not leave Christ."
Leave or Die
Christians families in Pondum village of Dantewada District have been given an ultimatum: leave the village or be killed, said area resident Nandesh Veko, 15.
Upset by the increase in the number of Christians, the village council on April 6 reviled Nandesh and told his uncles' families to leave the area, he said.
"We do not gather for prayers in Pondum and never hosted a large meeting also, because we know the villagers would oppose it and frame us in false cases," Nandesh said.
Neighbors alert other villagers when the Christians worship in their homes, citing loud noise, though tribal religionists play loud music at weddings or parties without problem, he said.
"When the neighbors' kids hear us praying, they increase their TV volume, shout and make strange noises, some ghostly sounds," Nandesh said.
Christians make up to 1.92 percent of the total 25 million population of Chhattisgarh state, according to 2011 records.
India is ranked 10th on Christian support organization Open Doors' 2019 World Watch List of the countries where it is most difficult to be a Christian. The country was 31st in 2013, but its position has been worse each year since Narendra Modi of the Bharatiya Janata Party came to power in 2014.
Become a Christian News Network Supporter...

Dear Reader, has ChristianNews.net been of benefit and a blessing to you? For many years now, the Lord has seen fit to use this small news outlet as a strong influential resource in keeping Christians informed on current events from a Biblical worldview. With much compromise and many falsehoods in modern-day Christianity, we strive to bring you the news by keeping Christ and His word in focus.
If you have benefited from our news coverage, please prayerfully consider becoming a Christian News supporter by clicking here to make a one-time or monthly donation to help keep the truth of God's word widely and freely published and distributed.
May Christ continue to be exalted through this work!